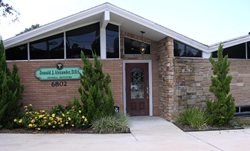 "It's important for patients to have the opportunity to sit down and talk about their concerns with the dentist in an environment where they feel comfortable and not pressured to choose a treatment."
Jacksonville, FL (PRWEB) June 30, 2014
There are lots of options for patients who have missing teeth: dental bridges, dentures, dental implants. But choosing the one that's best can be confusing. Dr. Donald Alexander hopes to alleviate the confusion by offering a no cost consultation.
"When you have missing teeth, you're already under a lot of stress. There's the emotional stress and embarrassment of not being able to smile. Missing teeth make it difficult to eat, so there's usually a physical stress as well," explained Dr. Alexander, a dentist in Jacksonville, Florida with more than 15 years experience in the restoration of missing and broken teeth.
What is often added to that stress, said Dr. Alexander, is the difficulty in deciding which treatment is best. "The first thing patients are worried about is the cost. Next it's the pain. But ultimately, they want to know they're choosing the best treatment so they don't have to deal with the problem a few years down the road."
Most dentists charge for consultations. Dr. Alexander said the decision to make his consultations free was easy. "It's important for patients to have the opportunity to sit down and talk about their concerns with the dentist in an environment where they feel comfortable and not pressured to choose a treatment."
Dr. Alexander said patients can simply call his Jacksonville dental office and make an appointment for the consultation. They'll meet with him in an office type setting and have the opportunity to just talk about their dental concerns. Dr. Alexander will review the patient's medical and dental history and talk about what goals they have for treatment.
This conversation allows Dr. Alexander to present various treatment options and help patients compare things like cost and short and long term benefits.
Tracy, of Jacksonville, is a patient of Dr. Alexander. He shared his experience in an online review, "Going in, I knew I needed a lot of work. This was a second opinion, based off my initial bad one - I was really turned off to dentistry. Dr. Alexander came and got me from the waiting room and sat me down in an office to talk first. I am still shocked. He offers all options and asks what you want to do. He doesn't force you into anything, no pressure, and treats you like a person…"
Dr. Alexander said dental implants are the gold standard for missing teeth, because they replace the tooth at the root. He acknowledged that implants are usually more expensive, but added that they typically offer the best long term results and need less maintenance than a dental bridge.
A bridge, said Dr. Alexander, is a great solution for someone who isn't ready for dental implants. The prosthetic tooth can act as a place holder, to prevent other teeth from shifting, while the patient prepares for implant treatment. Dental bridges are also well suited for patients who have an insufficient amount of bone, or someone who has a tooth missing in an area that can't be easily replaced with an implant.
For patients who have several missing teeth or are missing all of their teeth, Dr. Alexander said a denture is usually the best solution. Dentures can be removable or fixed using dental implants.
"Patients who go with an implant denture, what we sometimes call 'all on four', are generally much more satisfied with the outcome than patients who choose a traditional, removable denture," said Dr. Alexander. "The implants provide stability and replace the function of teeth, so patients can eat whatever they want and they don't have to worry about their dentures slipping out when they talk."
Dr. Alexander's staff can also provide assistance for patients with dental insurance and offer financing options if needed.
"Our goal is really to make it as easy and affordable as possible for people to get the dental care they need," said Debbie, who has been the office manager at Dr. Alexander's Jacksonville office for more than ten years.
Patients who want to take advantage of the free consultation should call the office at 904.372.8157 or visit Dr. Alexander's website http://www.alexanderdentistry.com to request an appointment.
About Donald J. Alexander DDS
Dr. Donald Alexander is a general dentist in Jacksonville, Florida. He graduated from Queen's University in Kingston Canada and earned his Doctor of Dental Surgery degree at the University of Iowa. He completed his general practice residency at the University of Florida. Dr. Alexander has taken numerous continuing education courses in restorative and cosmetic dentistry, as well as TMJ therapy and sleep medicine. His dental practice is located at 6802 St. Augustine Rd in Jacksonville, Florida.
Office hours are Monday, Tuesday, Thursday from 8am to 5pm and Friday from 8am to 2pm. More information can be found at http://www.alexanderdentistry.com.