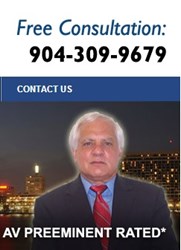 Jacksonville, Florida (PRWEB) August 22, 2013
The Law Office of Charles Truncale is now offering no charge legal consultations for all people seeking a Jacksonville criminal attorney. Call 904-309-9679 or visit their website to schedule a no cost legal consultation with their law firm today. Charles L. Truncale amassed over 20 years of experience as a Federal and State prosecutor. His hope with the legal consultations is to be able to help people who do not know where to turn to for help when they are facing a criminal charge. Attorney at Law, Charles Truncale knows the law and how to best serve his clients.
The Law Office of Charles Truncale specializes in Drug Trafficking, Drug Manufacturing & Distribution, Violent Crimes, Motor Vehicle Felonies, Federal Investigations, Fraud and Financial Crimes, Appeals and Post Conviction Remedies, Federal Criminal Appeals, Mortgage Fraud, Identity Theft, Fraud Against the Government, Tax Crimes, Asset Forfeitures, and Money Laundering throughout the state of Florida. Their main offices are located in Jacksonville, Florida, but are able to serve their clients across the state.
Drawing on his immense experience as a prosecutor, Charles Truncale is able to navigate the legal system to best serve his clients needs. He works with his clients to assess their individual legal situation and come up with a suitable course of action. Good legal advice is extremely important, as it can determine the fate of an individual's future. Charles Truncale helps to put his clients at ease and assuage their fears and worries about seeking justice in their criminal case. Truncale gives honest and direct advice to his clients, because he knows the justice system and how to get the best results for his clients.
Charles Truncale, is a Jacksonville criminal defense attorney, who is committed to justice and his clients. To learn more about The Law Office of Charles Truncale, you may visit their website at http://www.truncalelaw.com/ or call them at 904-309-9679 to schedule a criminal lawyer consultation with their firm.