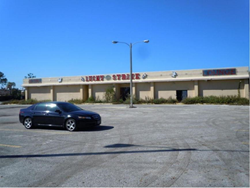 Jacksonville, FL (PRWEB) November 26, 2014
Under the lovely Florida sun in Jacksonville, a commercial investment property has become available to those looking to add some diversity to their portfolio. A 22-lane bowling alley located right off Interstate 95 is on the market, and will be featured in Micoley.com's February, 2015 online auction event. The bowling alley's interior comes complete with a kitchen, food court, snack bar, two lounges, a billiard room, and three restrooms. The 23,823-square foot building's exterior features an extra large parking lot and three separate entrances.
Located just minutes from popular tourist attractions such as the Atlantic, Neptune, Jacksonville, and Ponte Vedra Beaches, the bowling alley provides a major source of entertainment for guests in the area looking to bowl while they are on vacation. Also in the area is the famous TPC at Sawgrass golf course, which hosts The Players Championship every year and is also home to the PGA Tour headquarters.
The city of Jacksonville itself is home to the Jaguars NFL team, which draws fans from outside the area (many traveling with the opposing team, who stay for the weekend) for every home game. Jacksonville is the most populous city in the state of Florida, as well, with a metropolitan population of over 1.3 million, and many of its citizens are regularly looking to bowl.
The property, located at 10850 Harts Road in Jacksonville, is listed at $875,000 with an opening bid of $575,000 if no offer is received by the date of the February 28, 2015 auction.
The highly motivated sellers of this property have indicated that they plan to entertain early bids and offers. Buyers are most likely already researching this property, and coming to decisions about whether to make a purchase, so potential buyers are advised to act fast.
Interested parties should visit micoley.com to find more photos and details about the property, or visit in person and perform an inspection on site, which is highly recommended. (866) 371-3619 is Micoley.com's information line. Additionally, Micoley.com features a live chat service through which questions can be answered.
About Micoley.com:
Green Bay, Wisconsin-based Micoley.com is a real estate marketing firm specializing in project focused auctions of bank-owned properties throughout the United States. The Micoley.com approach to real estate marketing tailors each auction plan to the client's individual needs. The site is constantly being updated for the benefit of buyers, as large-scale auction events are held monthly, and new properties are added daily. Auctioneer: Katrina McDermid #4070. Broker: Rex Fletcher #SL3218337.