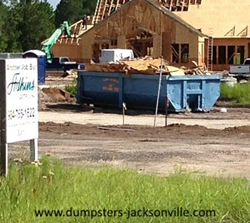 Construction, demolition and concrete hauling and recycling are our specialties.
Jacksonville, FL (PRWEB) December 19, 2014
Sunshine Recycling, a Jacksonville roll off dumpster rental company, is currently partnering with American Coastal Builders and providing them with three 30-yard dumpsters every week for their construction and demolition projects.
American Coastal Builders is a certified general contractor in Jacksonville that performs home remodeling construction projects, including renovations and additions. Since 1986, the company has been specializing in services like kitchen remodeling, bathroom remodeling, outdoor living spaces, pavers and more. American Coastal Builders also specializes in concrete, brick, stone and masonry construction, all materials capable of being collected and hauled by Sunshine Recycling.
Sunshine Recycling has been managing construction and demolition debris for companies like American Coastal Builders since its inception in the waste industry. Sunshine Recycling has both rectangular and tub-style dumpsters in various sizes like 20-yards, 30-yards and 40-yards, ideal for collecting concrete, brick and other heavy materials typically used for large-scale projects. In addition to providing the dumpsters, Sunshine Recycling offers hauling services for long-term projects where dumpsters are needed on-site for several weeks at a time. Multiple pick-ups are available per day, week or as needed depending on how quickly the dumpsters are filled. Recycling concrete is another option as Sunshine Recycling is LEED certified by the US Green Building Council.
"We really enjoy working with American Coastal Builders to help them meet all of their waste management needs," said owner of Sunshine Recycling Chuck Herb. "Construction, demolition and concrete hauling and recycling are our specialties. American Coastal Builders is in good hands!"
About Sunshine Recycling of Jacksonville
Sunshine Recycling Inc. of Jacksonville is a dumpster rental company servicing north Florida. Offering various sizes of dumpsters including front-load, roll off and full-size construction dumpsters, Sunshine Recycling also collects recyclables, waste and construction debris, and provides hauling services and trash compactors. The company is a proud member of the U.S. Green Building Council and is LEED AP certified. For more information about renting construction dumpsters in Jacksonville, please visit our website at http://www.dumpsters-jacksonville.com.