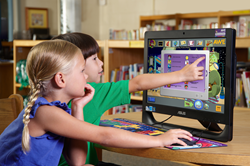 We've only had the computer stations for a few weeks, and we already see how children are attracted to them. - Laura Minnich, Manager of Youth Services and Community Outreach for the Jacksonville Public Library
Chester, PA (PRWEB) April 23, 2014
The Jacksonville Public Library in Jacksonville, Fla., recently added 15 AWE educational computer stations to the Main Library and five of its branch locations. Six Early Literacy Stations™ and nine AfterSchool Edge™ computers have been installed at the Main Library, Dallas Graham Branch Library, Highlands Branch Library, Southeast Regional Library, University Park Branch Library, and the Charles Webb Wesconnett Regional Library.
The Early Literacy Station (ELS) is an all-in-one computer system designed for children approximately ages 2-8. Containing over 60 educational applications and featuring thousands of activities, the intuitive system enables children to explore and learn at their own pace. The AfterSchool Edge is similar to the ELS but features content for ages approximately 6-12. Both products offer children a safe, standalone computer that does not require an Internet connection to operate. The content, which is correlated to Common Core and state standards, spans all curriculum areas: reading, math, science, social studies, writing, art and music, and reference/research. Both products also feature a host of administrative tools including timed sessions and usage tracking.
"Educational success for children and youth is one of our top priorities at the library," said Laura Minnich, Manager of Youth Services and Community Outreach for the Jacksonville Public Library. "These new learning tools add to our extensive educational programs and make digital learning available to those who might not have access."
"We've only had the computer stations for a few weeks, and we already see how children are attracted to them. The bright-colored keyboard, fun touchscreens, and great graphics on the AWE computers are a magnet for kids. They don't realize how much they are learning because it's so much fun," she added.
The Early Literacy Station, AWE's flagship product, is found in more than 40% of the public library systems across the United States. The Early Literacy Station is available in English, Bilingual Spanish, and Bilingual French.
###
About the Jacksonville Public Library (http://www.jaxpubliclibrary.org)
The Jacksonville Public Library includes a Main Library and 20 branch locations. The mission of the Jacksonville Public Library is to enrich lives, build community, and foster success by bringing people, information, and ideas together. Last year, more than 3.9 million visits were made to Jacksonville Public Libraries, items were checked out more than 7 million times, and more than 9,000 programs and services were offered to Duval County residents at the Main Library and 20 branch locations. For more information about the Jacksonville Public Library, call 630-BOOK (2665) or visit jaxpubliclibrary.org.
About AWE, Inc. (http://www.awelearning.com)
AWE's mission is to inspire children to become lifelong learners and to create a "community learning" network that includes public libraries, schools, child care centers, and the home. AWE's engaging digital learning solutions feature intuitive learning environments, are easy to use, feature educational content across all subject areas, and can be personalized for every child. For more information, visit http://www.awelearning.com. Follow AWE at @AWElearning.