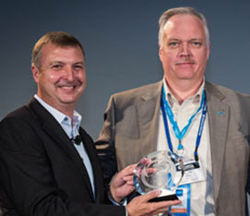 "We are proud to be recognized by FinancialForce.com two years in a row as the first and only healthcare services company to win significant awards in the Financial Management and Best ERP Vision categories."
Irvine, CA (PRWEB) September 25, 2015
Jacobus Consulting was recognized on September 14th, 2015, on stage during FinancialForce.com's Community Day, the company's fourth annual and largest customer conference to date. Financial Management Excellence recognizes customers who have demonstrated innovation, greater efficiencies and improved effectiveness in business processes. Judges selected Jacobus for their demonstrated excellence in optimizing its business and operations departments, creating an automated invoicing process, and increasing company efficiencies and customer satisfaction.
"We are proud to be recognized by FinancialForce.com two years in a row as the first and only healthcare services company to win significant awards in the Financial Management and Best ERP Vision categories," said Alan Hall, SVP, Information Technology Information Technology and Operations, Jacobus Consulting. "Our vision is to empower healthcare providers to lead the transformation to patient-centric care. Through the unified applications on the Salesforce1 Platform, we are able to deliver value with greater agility and speed to our hospital and health system customers, their patients, and communities while empowering them to improve care, maximize financial performance, and optimize operations."
Alan Hall was selected to share the customer journey and business advantages realized by Jacobus across the PSA and HCM implementations at the FinancialForce.com customer conference September 14-16, 2015 during DreamForce15.
"Congratulations to Jacobus Consulting and to all of this year's 360 Customer Excellence award winners and finalists," said Jeremy Roche, CEO of FinancialForce.com. "All of the judges were impressed by the successes of our customers and blown away by their innovative use of FinancialForce applications and the Salesforce1 Platform. Their commitment to improving business strategies through cloud ERP is what keeps us motivated and driven to continue to deliver products that will help our customers scale and grow their organizations. We thank everyone who submitted for this year's awards and look forward to working with our customers to continue pushing the boundaries of what's possible with cloud ERP."
Visit FinancialForce.com to view the press release and visit their blog for more coverage.
About Jacobus Consulting
Jacobus Consulting is dedicated to advancing the mission of healthcare providers through strategic advisory and information technology professional services in support of the patient continuum of care, revenue cycle and the journey to value-based healthcare. Our insightful, adaptable professionals engage through systems expertise, process proficiency, and workforce transformation to ensure that healthcare providers realize continued excellence in patient care, optimized operations, and improved financial performance.
About FinancialForce.com
FinancialForce.com delivers ERP at Customer Speed™. Built on the Salesforce1 Platform, FinancialForce ERP equips customer-centric businesses with a unified platform that delivers ERP and CRM on a single cloud. Our Financial Management, Human Capital Management (HCM), Professional Services Automation (PSA), and Supply Chain Management (SCM) apps allow businesses to increase the speed at which they operate and be more responsive along every touch point of a customer's journey. Founded in 2009 and headquartered in San Francisco, FinancialForce.com is backed by leading global institutions Salesforce, Technology Crossover Ventures, Advent International and UNIT4.