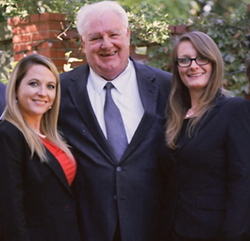 For the past five years, we have helped numerous clients get to the light at the end of the tunnel.
Oklahoma City, OK (PRWEB) September 21, 2016
Attorney Jacquelyn L. Ford is commemorating the fifth year since founding Jacquelyn Ford Law, P.C., which focuses on criminal defense and civil rights. "For the past five years, we have helped numerous clients get to the light at the end of the tunnel," said Ford, recipient of the Oklahoma Criminal Defense Lawyers Association's Clarence Darrow Award for excellence in trial advocacy. Jacquelyn Ford Law firmly believes that good people make mistakes and honest people can be falsely accused.
Ford has been running her law firm for the past five years with the aid of legal assistant and office manager Anna Herman, her best friend. "Our clients' first point of contact is Anna, who is highly knowledgeable about the criminal defense process," said Ford. "Anna is the heartbeat of this office. She works closely with clients on their journey through the oftentimes murky, unfamiliar waters of the criminal justice system. She is more than an office manager and legal assistant; she is my oldest and best friend. We have been through all of life's obstacles and celebrations together since we were 13 years old. I could never have been the kind of lawyer I dreamed of without her support and encouragement."
In addition to celebrating her fifth anniversary since founding Jacquelyn Ford Law, Ford recently founded the Oklahoma Justice Society, a trade organization for lawyers by lawyers designed to have a positive impact and influence in legislation and criminal justice in the state of Oklahoma. "The Oklahoma Justice Society was formed to protect the rights of all Oklahoma citizens through sound legislative reform and progressive criminal justice reform," said Ford.
Ford is also a sponsor of Voices Organized in Civic Engagement (VOICE), a non-profit coalition of congregations, worker associations, schools and nonprofit groups that have come together out of a deep sense of mission and concern for the pressures faced by families in the Oklahoma City metropolitan area. "VOICE examines how public safety is impacted by the strains we are placing on our criminal justice system," said Ford. Ford is also a proud contributor to the Oklahoma County Drug Court system by collecting and donating money, clothing, toys and other necessities to families working the program.
About Jacquelyn L. Ford, Jacquelyn Ford Law
Jacquelyn L. Ford focuses on criminal defense. Practice areas of Jacquelyn Ford Law include criminal law, civil rights, white collar crime, violent crimes, sex crimes, murder, drug charges, assault and battery, DUI/DWI as well as personal injury and medical malpractice. Jacquelyn is a member of the Oklahoma Criminal Defense Lawyers Association, a regular speaker for the Oklahoma Bar Association, a legal expert for her local news affiliates and a faculty member of the esteemed Gerry Spence Trial Lawyers College. For more information, please call (405) 604-3200, or visit http://www.fordlawokc.com. The law office is located at 1621 North Classen Blvd., Oklahoma City, OK 73106.
About the NALA™
The NALA offers small and medium-sized businesses effective ways to reach customers through new media. As a single-agency source, the NALA helps businesses flourish in their local community. The NALA's mission is to promote a business' relevant and newsworthy events and achievements, both online and through traditional media. For media inquiries, please call 805.650.6121, ext. 361.