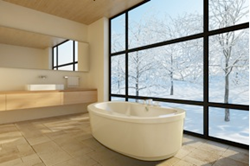 The Bravo™ bathtub offers consumers an in-demand freestanding look at an affordable price, especially when installed with a deck-mount faucet - Mike Ewing
Chino Hills, CA (PRWEB) May 13, 2014
Jacuzzi Luxury Bath, the company that pioneered the world's first whirlpool bathtub, proudly introduces the Bravo™ freestanding and drop-in bathtubs.
Bravo is Italian for well done and the new Jacuzzi® Bravo™ bathtub is just that. Offering both visual and functional flexibility, the Bravo™ bathtub is available in six color choices, two bathing experiences, two installation methods, and features a five-inch wide side deck to support deck-mount faucet installation. Made of top-quality acrylic, the two-piece design merges durable construction with installation flexibility by allowing consumers to specify either the freestanding or drop-in version of the Bravo™ bathtub. The Bravo™ bathtub's compact oval design, competitive pricing, and expanded feature set provide a new option for homeowners to be the designers of their ultimate bathroom retreat.
In addition to the traditional solid colors, the Bravo™ freestanding bathtub has two additional two-tone color combination choices – a first for Jacuzzi Luxury Bath. In addition to the solid white, oyster, almond, or black colors, the Bravo™ bathtub color choice extends to include both a black skirt with white bathing well and almond skirt with white bathing well option. "Homeowners' demand for customized product is a trend we see throughout our product offering," says Mary Nichols, Director of Marketing for Jacuzzi Luxury Bath, "The Bravo™ bathtub provides customizable features we hadn't previously offered, which is very exciting for Jacuzzi. In addition to the traditional bathing options, with Bravo™, homeowners now have a unique opportunity to make a more personal aesthetic choice with the two-tone color combinations."
Bravo™ bathtubs are available in two different installation methods and two different hydrotherapy experiences. The freestanding model offers a popular and compact aesthetic that complements a more transitional or contemporary bathroom, whereas the drop-in model is ideal for more traditional installation and bathroom suites. Soaking baths relax the mind and the body while Pure Air® technology takes that experience to a new height – adding bubbly relaxation to the bathing ritual.
"The Bravo™ bathtub offers consumers an in-demand freestanding look at an affordable price, especially when installed with a deck-mount faucet." says Mike Ewing, Senior Product Manager. "With its multitude of options, desirable design and size, and beautiful new color options, Jacuzzi hopes designers and consumers alike will be quick to say 'bravo'."
Customize your Bravo™ bath today using the Design Your Bath tool on http://www.jacuzziluxurybath.com because EVERYONE DESERVES SOMETIME™
About Jacuzzi Luxury Bath
Jacuzzi Luxury Bath has been fashioning the ultimate bathing experience for over 55 years, since the Jacuzzi brothers first invented the submersible whirlpool pump in 1956. The iconic line of soaking, Pure Air®, whirlpool and Salon® Spa baths continues to provide elevated and luxurious experiences by pushing the boundaries of convention in bathing.
Jacuzzi Luxury Bath is a dba of Jacuzzi Inc., the world's most recognized name in whirlpool bathing. For more information, visit http://www.jacuzziluxurybath.com or follow us on Facebook at https://www.facebook.com/jacuzziofficial. For Jacuzzi Luxury Bath customer service, call 1-800-288-4002.