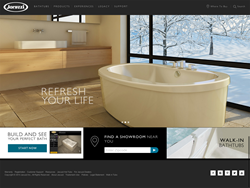 The site reflects our Jacuzzi® brand standards, organizes information clearly and exploring it is truly a treat for the eyes - Mary Nichols, Director of Marketing for Jacuzzi Luxury Bath
Chino Hills, CA (PRWEB) July 31, 2014
Jacuzzi Luxury Bath, the company that pioneered the world's first whirlpool bathtub, has launched a new and improved website to meet the needs of consumers and distributor customers alike.
The Jacuzzi Luxury Bath website has been redesigned to offer a luxury aesthetic that mirrors the superior design and quality represented by the company's products. The design is current, with a clear focus on product design and inspirational bathroom applications. "The site reflects our Jacuzzi® brand standards, organizes information clearly and exploring it is truly a treat for the eyes," says Mary Nichols, Director of Marketing for Jacuzzi Luxury Bath.
The improved visual aspect was only one of the goals of the development team. The website is also significantly easier to use. The navigation is intuitive, given that there are several ways of finding the ideal product to fit one's needs. The product selection process was the basis for the usability design, allowing visitors to search by the installation type, shape, collection or experience desired. Technical product specifications and customer support are also easily accessed.
"The need to bring our website up to par with the rest of our marketing and product efforts was apparent. We sought feedback from our customer base and the team designed a site that wholeheartedly represents our business and where we are going," emphasizes Joseph Davis, President for Jacuzzi Luxury Bath.
In addition, there are two valuable search tools incorporated into the website – the "Build and See" visualizer tool and the "Dealer Locator" tool. The "Build and See" tool allows visitors to narrow down the product selection process by choosing the desired bath configurations, viewing the chosen bathtub in a setting, and printing out the resulting product code. The updated "Dealer Locator" tool then allows a consumer to find a local showroom or distributor in their vicinity.
"We ensured that our website is optimized for mobile and tablet applications, serves as a comprehensive source of information for our users, and is visually pleasing," says Martin Borsanyi, Director, Advertising & Digital Marketing for Jacuzzi Group Worldwide, "and we are confident that we have delivered on all aspects."
Explore the new look and feel of Jacuzzi Luxury Bath today at http://www.jacuzziluxurybath.com.
About Jacuzzi Luxury Bath
Jacuzzi Luxury Bath has been fashioning the ultimate bathing experience for over 55 years, since the Jacuzzi brothers first invented the submersible whirlpool pump in 1956. The iconic line of soaking, Pure Air®, whirlpool and Salon® Spa baths continues to provide elevated and luxurious experiences by pushing the boundaries of convention in bathing.
Jacuzzi Luxury Bath is a dba of Jacuzzi Inc., the world's most recognized name in whirlpool bathing. For more information, visit our website or follow us on Facebook. For Jacuzzi Luxury Bath customer service, call 1-800-288-4002.