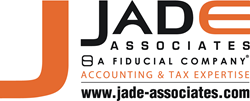 A trusted partner to their clients
Houston, TX (PRWEB) June 02, 2016
Jade Associates (Jade), a Fiducial company, continues its rapid expansion in the United States with the opening of a Houston, Texas office on May 31, 2016. Olivier Sureau, a founding partner of Jade, will oversee the Houston office operations. This opening is the second in less than six months for the brand and it represents the 10th worldwide location for Jade with offices currently located in: New York; Miami; San Francisco; Palo Alto; Atlanta; Paris, France; Sao Paolo & Rio De Janeiro, Brazil; and Buenos Aires, Argentina.
Jade, founded by French partners in 2003, specializes in providing accounting and tax services to French expatriates and entrepreneurs who currently reside and/or do business in the US or abroad or those who are interested in doing so. As a leader in its market, Jade services include: Financial Reporting; Payroll; Bookkeeping; Business Consulting & Planning and Tax. The team of multi-national accountants and tax specialists are trusted partners to their clients and collectively possess expert knowledge of US tax law and International Tax treaties. This expertise empowers Jade to be able to help their clients avoid double taxation and insure tax optimization.
Jade became a part of the Fiducial family of brands in 2015. Fiducial, founded in France in 1970, has more than 600 offices worldwide and owns five brands in the US which provide a wide array of professional services to small businesses and their owners in a variety of vertical markets. Services offered in the United States include: Business Counseling; Bookkeeping; Payroll; Tax Preparation, Planning and Advice; Cloud Technology and Business Valuation.
Inquiries can be directed to:
Sophie Nguyen
Jade Associates
832-900-8399
11999 Katy Freeway, S.330
Houston, TX 77079