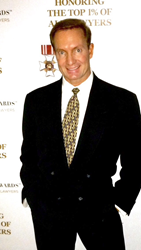 Los Angeles, California (PRWEB) February 09, 2015
The Lovell Firm, a Century City, California-based law firm, was awarded the 2014 Litigator Award for extraordinary achievement in Business Torts & Fraud Litigation. The Litigator Awards are governed by The Trial Lawyers Board of Regents, LLC and honor trial lawyers and firms demonstrating remarkable skill and ability in jury trials, trials before the court, or appellate practice. Less than 1% of all lawyers nationally, and approximately 12 law firms per state or DMA, are awarded this honor each year.
With over 20 years of experience, Tre Lovell, founding partner of The Lovell Firm, represents individuals and companies in a variety of business and entertainment matters, ranging from complex, multiple plaintiff litigation to high-exposure media cases. Recently, Mr. Lovell represented 144 victims who were swindled out of $200 million in an international real estate fraud scheme spanning over 5 countries (Los Angeles Superior Court Case No. BC461442). Lovell is also nationally recognized for representing Daun Slagle, the only survivor of serial killer Keith Jesperson, in a major Hollywood defamation suit against A&E Television Networks and Lifetime Movie Network for inaccurate depiction in the Lifetime original movie Happy Face Killer (Los Angeles Superior Court Case No. BC555557). He has successfully brought cases against Hollywood film studios, large radio conglomerates, video-game publishers, magazine publishers and others in an array of entertainment, intellectual property and business litigation matters.
Based strictly on verdict or settlement dollar achievement rather than peer popularity, the Litigator Awards are rigorous and openly judged national trial law ratings. To be award eligible, nominees must prove achievement of litigation "performance benchmarks" that include verified multimillion-dollar verdicts or settlements. To learn more about The Lovell Firm's Litigator Award, visit: http://www.litigatorawards.com/2014/the-lovell-firm-aplc.
About The Lovell Firm
The Lovell Firm, based in Century City, California, represents individuals, businesses, families and entrepreneurs in civil, entertainment, employment, IP and business matters. Founded by noted litigator Tre Lovell in 2004, The Lovell Firm is a nationally reputed law firm whose lawyers are recognized in the top 1% of attorneys in the nation through trial lawyers associations and legal media. The firm's aggressive style of litigating combined with its personable approach in getting to know every client individually, has garnered it a premiere reputation. For more information, visit http://www.lovellfirm.com.