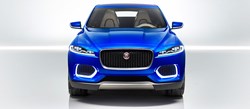 The C-X17 sports crossover represents an exciting new direction for Jaguar. Its purpose is to highlight our all-new aluminium architecture.
Sydney, Australia (PRWEB) September 18, 2013
The C-X17 has been created as a design study to introduce Jaguar's all-new advanced aluminium monocoque chassis architecture, codenamed iQ[Al], in which an exciting range of future Jaguars will be built. This new philosophy underpins the entire innovative future of the Jaguar brand. A modular and scalable vehicle architecture, engineered and developed for Jaguar, the architecture is high-strength, lightweight, extremely stiff and incorporates innovative efficiency technologies. It enables flexible high-volume production while allowing creative design freedom and competitive interior packaging without compromising the unique character, dynamics, performance and luxury that Jaguar is famous for. This will enable Jaguar to grow its product portfolio, targeting high-growth areas of the premium market.
As a sports crossover, the Jaguar C-X17 stretches the design possibilities of the segment by combining the character and driving experience of a sports car with increased presence, style and flexibility. The sports crossover concept car represents the potential expansion of Jaguar's portfolio of body styles, with the associated enhancement of the brand's relevance and appeal to a wider global audience.
"The C-X17 sports crossover represents an exciting new direction for Jaguar. Its purpose is to highlight our all-new aluminium architecture. With this technical foundation, we will dramatically expand Jaguar's product offering, market potential and customer appeal. This new philosophy will bring technology from our luxury products into an accessible price segment, and when combined with our new ultra-efficient engines, we will set a global standard. Add to these rational values, the class-leading dynamics, and the beauty and purity of form that Jaguar is renowned for, and we have the formula for a monumental leap forward."
Adrian Hallmark, Global Brand Director, Jaguar
Jaguar's first product from the new iQ[Al] architecture will be a new premium C/D segment sedan. Its global rollout will begin in 2015 and it will be the first aluminium monocoque product in the segment.
Power will be provided by engines with a wide range of capacities and output, all delivering inspirational performance and offering the latest innovations in fuel-efficient technologies without sacrificing drivability. These will include the high-output petrol and diesel engines to be built at Jaguar Land Rover's new engine manufacturing facility in the UK, as well as the powerful V6 petrol engine in the F-TYPE which will provide best-in-class specific power output, thanks to the lightweight architecture. These attributes will enable Jaguar to offer a wider variety of vehicles with exhilarating performance, top speeds of over 300km/h (186mph), as well as emissions below 100g of CO2 per kilometre.
The C-X17 concept illustrates the diversity of vehicles that could be produced using the architecture. A four-seater sports crossover concept built on the aluminium-intensive architecture, it blends sleek lines, sporting design and luxurious sophistication with enhanced flexibility and an assured driving position. In its exciting proportions, purity of form and its beautiful lines – overseen by Director of Design Ian Callum – the C-X17 is every inch a Jaguar.
The C-X17 could offer refined on-road dynamics and sedan car-like handling, thanks to its low height, optimised centre of gravity, and use of cutting-edge dynamic technologies such as Torque Vectoring by Braking, in which the car intelligently uses its brake system to balance the distribution of engine torque to the wheels during cornering, reducing understeer and maximising grip.
"We designed the C-X17 from the ground up from a distinct set of principles, a deep sense of what makes a Jaguar: exciting proportions, clean lines, balance of form. Assertive and powerful, yet with a beautiful sensuality about it, the C-X17 is boldly, distinctively Jaguar." - Ian Callum, Design Director, Jaguar
At 4,718mm long and 1,649mm tall, its dimensions are clearly that of a crossover, yet in its design, it shares strong family traits with Jaguar's current range. For instance, the grille is an evolution of the distinctive nose of the Jaguar XJ luxury sedan, while the sculptured haunch lines hint strongly of the award-winning design of the Jaguar F-TYPE sports car. A low-sitting stance and overall profile combine with 23-inch alloy wheels to give the C-X17 a sporting, aggressive presence, while the LED headlamps, J-shaped day-time running lights and frosted-glass foglights set into the large front intakes add to the C-X17's purposeful intent. The C-X17 is painted in a lustrous Caesium Blue finish with gloss black brightwork surrounding the windows, while the split five-spoke alloys are Dark Atlas graphite with gloss black finishers.
The interior of the C-X17 features four individual bucket seats, which are luxuriously appointed yet designed for a sculpted, lightweight appearance. The car's unique roof features contoured vanes that provide a distinctive 'elliptical' panoramic view to the C-X17's passengers while retaining the roof's sleek appearance from the exterior. Two additional rear-mounted leisure seats incorporated in the boot floor swing out for recreational use. Accessories that support an active lifestyle, such as a torch and a camera, are positioned in storage compartments in the boot.
The interior of the C-X17 marries premium, authentic materials and traditional craftsmanship with modern finishing techniques. It features a combination of Jet saddle Connolly leather and Orchid Connolly leather on the instrument panel, seats, armrests, doors, floor and in the boot, with stitching on the saddle leather creating a tactile feel. A subtle layered effect is created through the use of die-cut Houndstooth-pattern leather patches on the main leather panels. Ruthenium, milled aluminium and black brushed anodised metal finishes impart a darker tonal effect to the C-X17's interior. The door finish is gloss black.
A centre tunnel running the length of the car, from the instrument panel through to the rear passenger seats, incorporates the Interactive Surface Console – an interactive multi-passenger infotainment hub with a series of touchscreens under a continuous panel of transparent acrylic glass, which in conjunction with the secure in-car wi-fi network, enables the vehicle's passengers to connect and share experiences with each other and the outside world via social media. The C-X17's premium in-car digital audio system has been specially designed for the vehicle by British specialist audio firm Meridian, and the car's centre console is configured for a Head Up Display projector.
Official press release: http://www.jaguar.com/au/en/about_jaguar/news_and_pr/c-x17_release
About Jaguar Cars:
The mission at Jaguar has been to create and build beautiful fast cars. The XK, XF, XJ and F-TYPE bring the exhilaration of driving to life. They have a remarkably rich history, one that has shaped their strategies throughout the last eighty years and continues to exert a positive influence today.
For more information:
Mark Eedle
Brand Manager
Jaguar Australia
E: meedle(at)jaguar(dot)com
Bethany Allsopp
Marketing and Public Affairs Specialist
Jaguar Australia
E: ballsopp(at)jaguar(dot)com