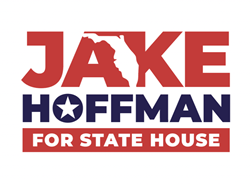 TAMPA, Fla. (PRWEB) July 25, 2022
Jake Hoffman releases his second "Jake for State House" campaign video for his race in Florida House District 65. The video, another parody of the popular insurance company television commercial, has accumulated over 400,000 organic views in under 24 hours since its release. Throughout the spot, Jake makes comical references to the chaos and lack of common sense of the Biden Administration and his fellow liberals in Washington; including a shot at transgender athletic competitions.
Following suit to his previous video, Jake concludes with his memorable campaign slogan, "Jake for a better state." The video has proven to be a hit, as views continue to grow across various social media platforms and garner name recognition within his district.
To see the complete video visit:
https://www.instagram.com/reel/CfrbGnHjfOk/
If you haven't the original that garnered over 1 Million views in 24 hours watch it here:
https://www.instagram.com/reel/CeeilYWgAIO/
Jake has the support of many local Republican groups and leaders in Tampa Bay. A small business co-founder, digital entrepreneur, and former President of The Tampa Bay Young Republicans, he is running to replace Jackie Toledo, who is not running for re-election but pursuing a bid for Congress. District 65 includes South Tampa, MacDill Air Force Base, Davis and Harbour Islands, and Westchase.