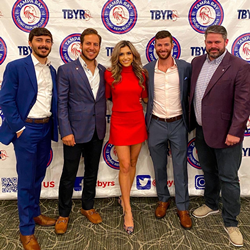 TAMPA, Fla. (PRWEB) August 09, 2022
Jake Hoffman wins the Tampa Bay Young Republicans (TBYR) Primary Ballot for Florida State House District 65 over Karen Gonzalez Pittman (REP) and Jen Mcdonald (DEM).
TBYR is a social and political organization that maintains and supports the principles and objectives of the Republican Party. The mission of this organization is to provide an opportunity to achieve political expression and recognition in the election as well as provide a networking platform for young professionals.
To conduct a primary ballot, TBYR sent a unique email survey to 403 respondents. All the responders are categorized as TBYR members aged between 18 and 40 and are registered and considered Republican Primary Voters living in the Tampa Bay area.
In the survey, the respondents were asked to provide their preference for U.S. President, rank the biggest issues facing the United States, and provide their political philosophy prior to providing their preference for each primary in the region. Additionally, they were not provided party affiliation for all races.
Jake Hoffman successfully outperformed other candidates securing 84.51% of the votes. He has established himself as a conservative leader in Tampa Bay having spent the last four years serving as the President of the TBYR organization. The organization has been credited with influencing significant legislation in Florida including the 2021 Integrity Bill and Aiding the passage of Amendment 4 in 2018 which restores a felon's voting rights.
Jake has the support of many local Republican groups and leaders in Tampa Bay. A small business co-founder, digital entrepreneur, and former President of The Tampa Bay Young Republicans, he is running to replace Jackie Toledo, who is not running for re-election but pursuing a bid for Congress. District 65 includes South Tampa, MacDill Air Force Base, Davis and Harbour Islands, and Westchase. Visit the website to learn more.