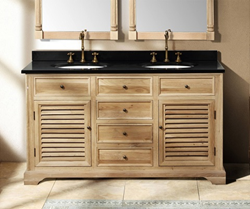 James Martin Furniture is consolidating and streamlining their production and shipping to ensure their bathroom vanities are never out of stock and always arrive in pristine condition.
(PRWEB) June 15, 2014
HomeThangs.com – the Online Home Improvement Store has made their goal to deliver the right product to the consumer. With that in mind, shopping and home design tips, as well as special product selections are being introduced.
James Martin Furniture is one of the hottest bathroom vanity brands out there, and right now the company is undergoing some major changes to improve the quality, diversity, availability, and delivery of their most popular product lines. Many of these changes are already in the works, and HomeThangs.com has introduced a quick guide to some of the most important ones and what they mean.
New Factory
James Martin Furniture is in the process of consolidating production of their bathroom vanities, moving many lines from their existing factories to a single facility. While this is mostly a behind-the-scenes change that won't have much impact on the products themselves (colors, materials, and so on will remain nearly identical), it will have a big impact on production. This new facility will allow James Martin to produce more vanities faster, helping reduce wait times and prevent their most popular vanities from going out of stock. They're also improving their packaging and shipping methods, to help ensure their products arrive free of damage or defects.
Standardizing Sizes
Several of James Martin's most popular bathroom vanities are currently available in slightly non-standard sizes, but are being modified to fit industry standard widths: 24″, 36″, 48″, 60″, and 72″. This seemingly small change means that these vanities will have a much greater variety of stone vanity tops to choose from. Stones that were previously only available with other collections can now be combined with almost any vanity, as the vanity tops can now be cut to the same size and used interchangeably.
New Stone Vanity Tops
At the same time, James Martin is introducing three new types of stone vanity tops, and have found a new supplier for all their stone, so they will now only be using only grade A quality stone. Most of these stones are available in both 2cm and 4cm thicknesses with waterfall edges, and now come with the sinks already attached, but will no longer have built in stone backsplashes. They're also taking further steps to improve packaging and shipping, to help reduce the possibility of damage during shipping.
Soft Closing Cabinets And Drawers
One of the biggest practical improvements James Martin Furniture is undertaking is adding soft closing hardware to their Savannah and Providence collections as well as all Designer Series vanities. This is a simple luxury feature that helps doors and drawers move smooth and quietly, and generally offers better functionality and durability.
New Colors
Despite changing factories, nearly all of the currently available colors will remain unchanged; even where the actual finish being used will be different, visibly most vanities will still look exactly the same. That said, several designs will have old colors reintroduced and new colors added, including Antique Black, as well as a new a medium toned Warm Cherry and a deep Sable. Only two finishes will be significantly altered, including Harvest Oak, which is being replaced by a lighter toned oak called Country Oak, and the driftwood finish on the Savannah collection, which will be updated to use the more consistent and refined finish on their Normandy collection.
Wood Backsplashes
Another significant change is that the wood backsplashes currently available on vanities from the Designer Series will now be standard on Brookfield, Providence, and Savannah cabinets as well. These wood backsplashes are designed to match the finishes of the cabinets and are Valspar treated to protect them from water damage. This simple design change should also help ensure that James Martin's bathroom vanities arrive in pristine condition, as it eliminates the possibility of damaging more the fragile stone backsplashes that were used previously.
To find out more about the exciting changes coming to James Martin Furniture, check out the full article here.
HomeThangs.com is not only a home improvement superstore, it also provides expert design tips and a comprehensive shopping guide, taking the ideas from professional interior designers, and offering tips to the consumers on how to pick the products to best suit their needs.