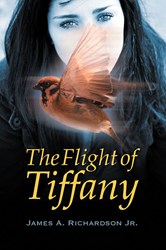 "This is a story close to the author's heart and he writes with insight and honesty."
(PRWEB) January 28, 2014
"My name is Wendy. I was a 14-year-old girl just trying to make it in today's cruel world. I lived in Florida with my mom and stepdad, and then was sent to live with my dad and his wife Karen in South Boston, mainly because I didn't get along with my stepdad. Even though I loved my dad and Karen a lot, I revolted against them any way I could. My first week there as I was sitting outside eating lunch, a little sparrow flew down and sat on the table with me. I was shocked and didn't know what to do. I tossed her a piece of bread and she took it and flew back to her nest. Minutes later she flew back. I was surprised as she hopped over and into my hands as I fed her. I named her Tiffany because she had sparkling eyes and I loved that name. She became my best friend and was always there for me."
Wendy has many regrets about her behavior with her family. She misses her friends and her Mom back home, so she returns to Florida. But she also misses the little bird she left behind. "We learn to live with our mistakes, but I wish Tiffany was here with me. I missed her the most."
THE FLIGHT OF TIFFANY (ISBN: 978-1-62516-466-7) is now available for $10.95 and can be ordered through the publisher's website:
http://sbprabooks.com/JamesARichardsonJr or at www(dot)amazon(dot)com or www(dot)barnesandnoble(dot)com.
WHOLESALERS: This book is distributed by Ingram Books and other wholesale distributors. Contact your representative with the ISBN for purchase. Wholesale purchase for retailers, universities, libraries, and other organizations is also available through the publisher; please email bookorder(at)aeg-online-store(dot)com
About the Author: James A. Richardson Jr. writes lovingly about his daughter and the other characters in his book. "My wife Karen is a strong woman all around with a loving heart. Wendy is my daughter from a previous marriage, and Tiffany was a little sparrow that became our friend and family."
Strategic Book Publishing and Rights Co, LLC