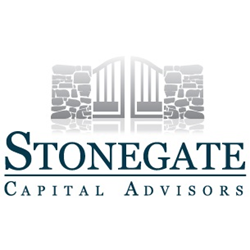 SCOTTSDALE, Arizona (PRWEB) August 26, 2015
As one of the industry's top financial services providers, Stonegate Capital Advisors is constantly advising people at all stages of life on how to best increase and – more importantly – keep their wealth using a balanced approach.
When people reach middle age, they usually begin to increase their commitment to investing and saving. However, many times they may unfortunately make some dire errors due to false assumptions and common misconceptions. That's why Scottsdale-area financial services expert Jameson Van Houten is sharing a few tips on avoidable financial errors that usually plague people between 40 and 60 years old.
Avoid risky investments. Some people may worry that they're starting to invest too late and hope that a high-risk investment may earn them a large sum. However, as retirement age draws near, people have less time to recoup their investment losses. Jameson Van Houten recommends that as a person gets older, they dial down the risk in their portfolio and diversify their investments. This lessens the chance for big losses.
Save for retirement. In this day and age, people have a high chance of facing some sort of setback financially, whether it's loss of employment, medical bills or some other unforeseen expense. But Jameson Van Houten advises against letting those setbacks take away from retirement savings. That money gets harder and harder to make back as one gets older. The same can be said for college savings. That can be secondary to retirement savings as a person's college-age children can apply for financial aid for school; there is no financial aid for retirement.
Pay off credit card debt first. Jameson Van Houten says that even applies to paying off a home. While owning a home free and clear may make people feel great, consumer debt can be crippling to their ability to save. According to a recent report, the average American household carried more than $15,000 in credit card debt alone as of June 2015. Jameson Van Houten recommends attacking credit card debt first. This will help free up money for investments, retirement savings, and building an emergency fund.
Many of these midlife money errors are made because of faulty information passed down from parent to child or bad advice on the Internet, says Jameson Van Houten. Financial advisers, like the ones at Stonegate Capital Advisors, can offer the most up-to-date expert advice and assistance. To learn more, visit http://stonegateprivateclient.com.
###
(602)953-8450
info(at)stonegatefg(dot)com
Press release distributed by JW Maxx Solutions, a leader in content management solutions and part of a family of companies that includes Enterate Ahora.