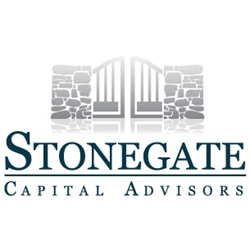 SCOTTSDALE, ARIZONA (PRWEB) September 09, 2015
When people choose to work with Stonegate Capital Advisors, they get a company that strives to help clients create a secure financial future.
A large part of that future is retirement savings. Unfortunately, whether it's by choice or because of extenuating circumstances, some people do not have substantial retirement savings. In order to help people stuck in this predicament get on the right track, Jameson Van Houten, a Scottsdale financial services expert with Stonegate Capital Advisors, offers up a few tips on how to get one's retirement savings to the level they desire.
Get caught up. Some people may not know it, but they can take advantage of the catch-up contributions the IRS allows people to make to IRAs and other retirement accounts. People can start doing so at 50 years old. To compare, in 2015 a worker at 50 or older can put $24,000 into a 401(k) account while someone younger can put only $18,000.
Employer matching programs. Certain employers will match an employee's retirement plan contributions to some degree. Therefore, people should try to contribute to their workplace's retirement plan to get the match. Jameson Van Houten says not doing so is basically throwing away an offer of free money.
Put off retirement. Even a few additional years of employment can mean additional funds being poured into retirement accounts, which also equates to additional growth and compounding for those assets. Also, claiming Social Security benefits later will allow a person to receive a larger monthly benefit, says Jameson Van Houten. The biggest reason a person should put off retirement for even a few more years is that it means less time having to live solely off his or her retirement savings.
Chip away at debt. Jameson Van Houten says this more refers to debt such as credit cards, not a mortgage. Reducing one's credit card debt can produce more immediate savings and eliminate high interest payments. Eliminating or reducing certain household expenses, such as cable or even the electricity bill, can add up to better savings as well.
Get professional assistance. A financial professional, such as Jameson Van Houten and the experts at Stonegate Capital Advisors, can help people figure out what kind of retirement income they may need to live comfortably. While having a savings is very important, having adequate retirement income can keep people from running out of funds.
For more information on Stonegate Capital Advisors, visit their website http://stonegateprivateclient.com/
###
(602)953-8450
info(at)stonegatefg(dot)com
Press release distributed by JW Maxx Solutions, a leader in content management solutions and part of a family of companies that includes Enterate Ahora.