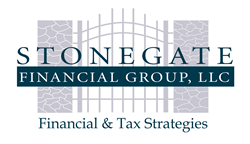 Scottsdale, Arizona (PRWEB) August 20, 2014
Coming into the holiday season, many people are looking for ways to save up so that they can take end-of-year vacations, pay for gifts for their friends and family, or just to save money for the future. In an effort to help those people wanting to put away money for the future, Jameson Van Houten of Stonegate Financial Group is sharing four tips for saving for any occasion.
1. Make saving something that is automatic.
One of the best ways to ensure that money is being saved out of every paycheck is to set up an automatic withdrawal every month. This can be in the form of a payment into a 401(k) account, or into a separate savings account if the company a person is working for is smaller and does not offer a retirement plan. If this is the case, it is important for a person to look into different avenues of saving including investing in bonds, stocks and other options, since putting money into a regular savings account accrues little to no interest. In the end, Jameson Van Houten of Stonegate Financial Group shares that this automatic payment will allow people to save without having to place money consciously from one account to another. It is important to periodically increase the amount that is being saved as well.
2. Unexpected income should be set aside – not spent.
Unexpected increases in monthly incomes are always a welcome surprise, but instead of spending this money on that new TV or other unnecessary items, Jameson Van Houten of Stonegate Financial Group advises savers to put aside some or all of the unexpected income that comes from bonuses, cash gifts, tax refunds and other sources into savings.
3. Cut spending and save more.
The easiest, yet hardest way to save money for the future is to reduce one's spending on a monthly basis. These expense cuts can come from discretionary expenses such as purchasing clothing, going to the movies, going out to eat, frequently traveling and other expenses that are not necessary for day-to-day life. Another way to save money is to look for better prices on necessary expenses such as groceries, car insurance and more. The money saved on these expenses each month can then be diverted into a savings account or retirement fund of some sort.
Jameson Van Houten of Stonegate Financial Group has always maintained that it is better to save for retirement as soon as possible, and with these top savings tips, he is confident that people will be able to save more. For more information, visit http://stonegatefg.com. or call (602) 953-8450.