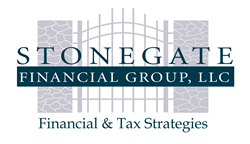 Scottsdale, Arizona (PRWEB) August 22, 2014
Jameson Van Houten of Stonegate Financial Group knows that keeping organized financially is oftentimes a hard feat to accomplish throughout the year. With the average amount of purchases that a person makes over the course of the year, it is imperative that taxpayers stay organized so that they have everything in place come tax time in April. In order to help people to stay more organized with their finances, Jameson Van Houten is sharing these top tips for retaining and organizing financial information throughout the year.
1. It is necessary to throw some things out.
While it is important to save most statements, it is also important to throw statements away so that there is no confusion. After detailed annual statements are received, Jameson Van Houten advises taxpayers to get rid of both monthly and quarterly statements. Additionally, once current information is received, last year's information can also be shredded and thrown away.
2. Keep important documents somewhere safe.
Important records including marriage certificates, birth certificates, deeds, tax returns and more should all be kept somewhere safe and secure where they will not be damaged or compromised in any way. In fact, birth certificates and other hard-to-replace documents should be kept in a safe or in a bank deposit box.
3. Retain tax information for at least six years.
No one wants to or expects to get audited, but in the event that this does happen, it is important to be prepared. It is for this very reason that Jameson Van Houten recommends keeping any and all records that validate any and all taxable income and tax deductions for at least six years. Though it is unlikely that the IRS will go look at a person's finances for more than the past three years, they do have the authority to go as far back as six years. This also includes keeping any and all W-2 and 1099 forms. The six-year rule applies to brokerage statements, sale documents for significant assets and other financial proof of purchase/sale.
When it does come time to file for taxes, having kept organized throughout the past year will make it much easier to locate and/or send the information needed to an accountant in order to prepare a person's taxes. There are few feelings worse than that of losing an important financial document needed for a tax statement. For more information about these tips and more leading financial advice, contact http://stonegatefg.com.