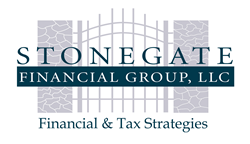 Scottsdale, Arizona (PRWEB) September 11, 2014
Creating and sticking to a budget is oftentimes something that many people who try to get their finances in order struggle with. This might be because people feel that they do not need to take the time to make a budget, that they do not have enough money to manage through a budget, they feel that they have too much debt, they do not know where to start to make a budget or a wide variety of other reasons. Jameson Van Houten of Stonegate Financial Group shares that all of these reasons are legitimate, but that the first step to improving one's financial situation is taking action to do so.
1. Weeding out important information.
When searching for "financial tips" or "how to budget" online, millions of results will surface offering an endless number of tips on how to save money, the best ways to save money and a whole host of confusing information. Jameson Van Houten of Stonegate Financial Group shares that savers should do their homework and research articles put out by experienced professionals, not just those who claim to have experience. The more authoritative the source, the higher quality the information is likely to be.
2. Keep cash on hand.
Many people avoid carrying around cash, because they feel that it is more convenient to use credit. However, this is simply not true and oftentimes, the opposite is true. One of the best things to do when sticking to a budget is to put aside cash for certain expenses. Going to the grocery store with a set amount of cash will force a shopper to stay within their budget.
3. Trim the fat.
There are certain luxuries that many people indulge in on a daily or weekly basis that can seriously impact the amount of money they save each month or each year. Simply forgoing a cup of Starbucks coffee for $4.50 a day can save up to $31.50 a week, which equates to around $126 saved per month and over $1500 saved each year! Jameson Van Houten of Stonegate Financial Group notes that extra expenses such as beauty treatments, car washes and other expenses that can be done at home should be looked at in order to increase the amount of money saved each month.
Jameson Van Houten shares that paying extra towards any debts is a great way to help cut monthly costs. For more information about these tips and others to save more this fall, visit http://stonegatefg.com or call (602) 953-8450.