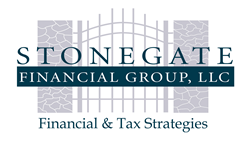 Scottsdale, Arizona (PRWEB) October 14, 2014
Stonegate Financial Group knows that when a person is in debt, it can oftentimes feel like they are never going to be able to come out of it. Bills pile up, unexpected expenses happen and more can put an individual off track from getting out of debt. To start the New Year off right with a plan to get rid of one's debt, the financial planners at Stonegate Financial Group are sharing this information.
1. Prioritizing debts.
Even though some of the debts that an individual has accrued have high interest rates, it is the smaller debts that people should consider paying off first. Where many cause themselves even more grief is trying to put all of their efforts into paying off larger debts with higher interest rates, while passing up the smaller debts that have lower interest rates. They feel that because the bigger debt has a higher interest rate, they need to pay that off first. At Stonegate Financial Group we encourage using tools such as a budget and financial plan to show the big picture of financial matters.
2. Streamlining finances.
One of the best strategies for getting out of debt as soon as possible is to save up money in other areas of one's weekly or monthly budget, and put that money towards bigger payments on debts. Doing things like utilizing coupons, making extra money through a side job and other avenues of both saving and making money can go a long way towards making bigger payments and getting rid of debt faster.
3. Once debts are paid, use that money towards other debts.
Once an individual has successfully paid off one debt, Stonegate Financial Group shares that they should consider using the amount that was being paid towards another debt. If one debt payment was $100.00 per month and it was paid up, then that $100.00 should be used to pay off another debt instead of being looked at as "extra income" for other expenses and purchases. Once a debt is paid, the monthly payments can be applied to yet another debt.
These are just a few of the tips that the financial advisors at Stonegate Financial Group have for those who are struggling with debt at the end of the year. For more information, visit http://stonegatefg.com.