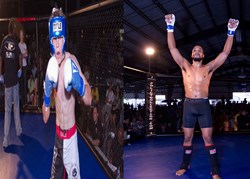 I'm looking to add another KO to my collection.
Belcamp, Maryland (PRWEB) October 31, 2013
Next weekend, November 9th, 2013, James Williams and Eddie Doud, of Top Flight MMA Academy in Belcamp Maryland, will once again enter the cage for combative competition at the Stellar Fights 19.
Both Williams and Doud were scheduled to fight back in September at Stellar Fights 18, but last minute fight withdrawals kept the two from competing. Williams and Doud both made their debuts in the Stellar fights cage, and both were victorious in their 1st outing; Williams winning by 27 second KO, and Doud by unanimous decision.
Since then Williams has gone on to win 2 more fights, both by knockout, and in the last fight he captured the light heavy weight title. Immediately after winning the title Williams said in his post fight interview that his next step will be win the middle weight title. Next weeks fight will determine who will challenge the middle weight champion for his belt. Williams opponent was suppose to be Sam Vanderslice from North Carolina, but due to injury Williams opponent will Craige Hayes of Delaware. Williams and Hayes were suppose to fight at Stellar Fights 18.
Here is what Williams had to say about his fight next week for number contendership, "I'm looking to add another KO to my collection but most importantly I want the win so I can beat the middle weight champion. I've always wanted to be like those boxer who walk to the ring with multiple belts. That's going to be me once I win the title but first up is Craig Hayes. He is a strong dude and I know he will come prepare but I'm going to make him pay for making me cut weight and not get to fight at the last stellar fights. I trained hard for this. I'm sparring and training with the best fighters and grapplers in the area. It going to be great fight next week."
Doud, who hasn't competed since is promotional debut, will make his MMA debut in a rematch against John Drenner. These two fought under K-1 Muay Thai rule first with Doud besting Drenner with a unanimous decision. The fight was action packed and many believed the 2 should have fought under MMA rules.
Doud had this to say about his fight next week, "I'm real excited to get my fight MMA fight. I mean do a lot of MMA sparring and grappling so doing MMA is not that new to me but this will make it official. John is a tough fight but I will beat him again. I've improved a lot since the last time we fought and my team has really pushed me for this fight. There is nothing do that I hadn't already seen or felt from fighters who are way better. I expect to leave the cage with my hand raised."
Tickets can be purchased at Top Flight MMA Academy and for more information on James Williams, Eddie Doud, or any Top Flight MMA training programs please call 410-272-3799 of email info(at)topflightmma(dot)com.