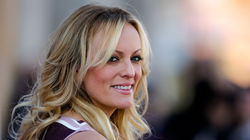 LOS ANGELES (PRWEB) March 21, 2019
Stormy Daniels is not a comedian, nor does she want to be labelled as one. The adult film star made sure to point that out during her stand-up comedy set in southeast Houston on Wednesday March 20th. Her two-show, one night-only performance at the Joke Joint Comedy Showcase was marketed as a special event, and Daniels even stated, "I really like lying down more than this." Nevertheless, many comedians and entertainment insiders were quick to denounce the choice of an adult film star re-branding herself as a comedian.
"Doing stand-up is not a reward for being famous. Please leave the weekend gigs for actual female comics," said Laurie Kilmartin, a comedian and writer for Conan on Twitter. Jamie Masada, the owner of the world-famous Laugh Factory, was more reserved with his views. "To be a successful stand-up comic, you have to please thousands of people at one time. Someone who is used to pleasing one person at a time, may have difficulty adjusting to this challenge," pondered the comedy legend.
But even though the media reported that comedy could be Daniels' "next big career move," she seemed to have no specific plans about what she was doing after Wednesday night's performance. Daniels admitted to preparing very little and planned to mainly take questions from the audience. She ended up telling stories from various points throughout her life and career, including her early days stripping in small-town Louisiana and her foray as a director of adult films and the trials and that she had to deal with on set.
"I had no idea that comedians were such little b*****s," Daniels stated, "they should be gentle, it's my first time… I didn't think I'd ever get to use those words again." The adult film star did have a few great one-liners, however, like her opening, "First of all, thank you for coming—which has a completely different meaning than my other job." In the middle of one tell-all story about a newbie in the adult film world who mistook the instructions for how to prepare herself for her scene, Daniels made no apologies for revealing all, saying that "an NDA can't even keep me that quiet."
"Daniels' appearance on Wednesday night ended up being a rambling romp through her career rather than an enrapturing tell-all, though that fact didn't hamper the spirits of the enthusiastic crowd," explains Masada, "the full house was definitely leaning towards the older side of the age spectrum and, while there appeared to be some families in attendance, the audience also seemed to skew to the strip-club-goer variety if the questions were any indication. It remains to be seen how Stormy Daniels will approach her comedy future, if she even decides she wants to have one."
"Comedy is not as easy as good comedians make it look," concludes Masada, who has been known for kick-starting the careers of stand-up comedians such as Tim Allen, Jim Carrey, Dave Chappelle, Jamie Foxx, George Lopez, Adam Sandler, and Chris Tucker, (among others,) "I asked Richard Pryor what makes a good comedian, and he said, '10 years of stage time!'"