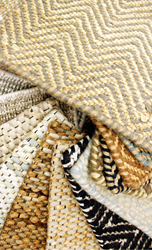 Letting Designers Design
(PRWEB) October 18, 2017
Jamie Stern Furniture | Carpet | Leather is proud to introduce the Artisan Collection, a selection of hand woven rugs inspired by our recent trip to the Bhadohi district of India. As one of the world's largest producers of hand woven products, this region and its master weavers have garnered a reputation for producing rugs of the highest quality dating back to the 16th Century.
Jamie Stern has worked with a group talented craftsmen to develop our natural fiber, hand loomed collection utilizing the finest wool, hemp, jute, and bamboo silk. The collection's textures evoke the traditions and imagery of India's rich culture. Machines cannot replicate the bespoke character of these designs, which have been passed down for generations. With the Artisan Collection, we wish to celebrate and promote the long-standing history and beauty of this artform in the hopes of keeping it alive for years to come.
The Artisan Collection consists of four beautifully curated designs.
Vishnu – Hand weaving combines hemp and felted wool. Both fibers can be custom colored in any color combination, any size.
Dharma – Complimentary colors in 100% New Zealand Wool hand woven to create this dynamic pattern. Can be custom colored and available in any size.
Kharma – This hand woven design uses 100% hemp in a natural and dyed state to highlight this classic design. Available in any colors, any size.
Ganges – Hand loomed of bamboo silk and wool, this luxurious texture can be custom colored in a myriad of colors and is available in any size.