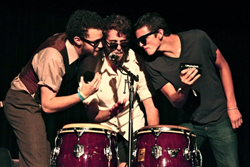 "The camp completely broke me out of my shell, transformed me as a performer, helped me start my band, and kickstarted my dreams." - Ashley Nite, JAM student
Nashville, TN (PRWEB) May 26, 2015
The JAM Advanced Music camp for aspiring young musicians announces dates for Summer 2015. Over the past 13 years, the non-profit JAM Camp has become the most sought after summer music camp in the Nashville and the surrounding area, attracting local 2nd and 3rd generation talent as well as students from across the United States who are looking for a challenge. The camp will take place on July 6 - 10 and July 13 – 17 at Ensworth High School.
Students flock to this camp because of its reputation for giving a heaping helping of real life music industry experience. The JAM is for experienced teenage and young college musicians/vocalists, ages 13-21. JAM students are members of two different bands for the week, collaborating with other students under the guidance of top industry professionals. Sixty bands are formed each week, and over 30 music genres are offered as band choices. All instruments are welcomed.
The knowledge that is obtained by students is incomparable to any other student music experience offered in the summer. The opportunity for networking with other musicians provides lifelong industry relationships. Major notoriety has been achieved by many of the students that have connected through the JAM experience.
Producers, record labels, radio stations, and major television networks have taken interest in many of the JAM students who have dominated the stage performances at The JAM because of the vast experience that was gained in their two weeks of attending The JAM summer sessions.
Many current and former JAM students are playing major venues, festivals, and premier clubs in Nashville. Bonnaroo, Volapalooza, The Troubadour, The Voice, and America's Got Talent have all had JAM students on their stages.
The JAM is a phenomenon in its own right because of the dedication of the professionals who teach and the students who fully embrace their craft with passion. Careful insight and consideration are given to each student's capabilities and strengths to achieve greater success by networking, producing and performing. There is no place like The JAM.
Ashley Nite, current JAM student and lead singer for Reign, says, "The camp completely broke me out of my shell, transformed me as a performer, helped me start my band, and kickstarted my dreams."
The JAM Advanced Music Camp is a non-profit organization solely dedicated to educating and nurturing gifted teenage musicians and vocalists. It was founded in 2003. The JAM is held on the Ensworth High School campus in Nashville for two sessions: July 6-10 and 13-17. Applications now being accepted on line at http://www.thejamcamp.com.