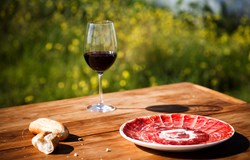 Unique intense flavor with a note of sweetness, nutty undertones and sublime tenderness.
San Francisco, California (PRWEB) December 16, 2013
IbericoClub.com has partnered with 300 small artisan farmers from the south of Spain, and selected the highest grade of Artisanal Jamón Pure-Ibérico de Bellota for all the food lovers throughout the US.
Instead of offering hundreds of food products, IbericoClub.com offers only one exceptional product, acorn fed Ibérico ham, in two different formats: the whole Jamón Ibérico de Bellota or Sliced & Packaged.
Handpicked by a "Maestro Jamonero", Ibérico Club's unique ham is the only one in the US with Protected Denomination of Origin (Los Pedroches) and it comes from certified humanely raised pure Ibérico breed pigs (only 10% of all Ibérico pigs are "pure").
Ibérico Club delivers to your door in 1 to 5 business days, with free shipping and 100% free returns. You can even subscribe to your purchase and receive it every week or month.
Jamón Ibérico de Bellota is considered one of the four finest food products on earth alongside Caviar, Truffles and Champagne.
The Food Club Corp, the company behind Ibericoclub.com, is based in San Francisco, CA with a warehouse in San Jose, where several hundreds of orders have already been fulfilled in the first 2 months since operations started.