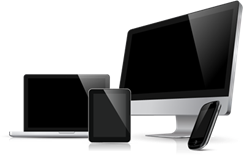 The Consumerization of IT is happening at an exploding rate. SMB's are looking to enable new mobile user workstyles while providing IT with greater manageability and scalability of resources and infrastructure.
Calgary, AB, Canada (PRWEB) January 24, 2014
desktopsites, Inc. is pleased to announce the beta release of Konect Mobile™, which leverages Microsoft's RDC Client to allow secure access to Konect Resources from Mac OS, iOS, Android, and many other devices/tablets. Secure LAN/WAN capabilities allow users to work seamlessly from anywhere, such as the office, at a branch location, in the field, from home, or on the road.
"With the rapid rise of mobile devices such as smartphones and tablets, the face of the desktop is drastically changing, and a new heterogeneous environment has sprung up with users wanting to work from various devices and locations," says Laura Armstrong, VP for desktopsites. "Businesses now need to be able to deliver critical business applications and desktops to workers who could be using any device, anytime, anywhere."
Konect Mobile™:
While the Konect Client™ supports Windows devices (XP+) with the same seamless experience it always has, Konect Mobile™ now offers the same fast, secure access to Konect Resources from various BYOD devices and tablets as well. With this expanded device support, small and mid-size businesses can gladly welcome the Mobile Workforce and BYOD Movements by providing an excellent user experience regardless of which device users "Konect" from.
Supported Devices:

Mac OS (10.6.8+)
iOS (6.0+)
Android (2.2+)
Windows (x86/x64/ARM)
RemoteFX Support:
Konect's support of RemoteFX greatly improves user experience, providing a seamless experience across multiple devices which helps maximize user productivity and also helps simplify an administrator's overall management experience. Hardware Acceleration, USB Redirection, and Multi-Touch Support are just a few of the RemoteFX features that enhance the user experience when using both the Konect Client and Konect Mobile.
Konect RDS Cloud:
Tightly integrated with RDS, Konect Elite delivers session-based desktops, applications, workstations, and files/folders to users. Konect's advanced Active Directory and Group Policy management secures critical business resources and the users connecting to them; delivering secure authentication, secure gateway, VPN and SSL support. Konect Elite installs on any physical or virtual Server 2008 and newer to provide a single pane dashboard through which IT admins can easily deliver these various RDS resources to their users.
Konect VDI Cloud:
Through the same single management pane (which is also tightly integrated with Hyper-V), Konect Elite offers the ability to dynamically sync, create, configure, and manage virtual machines, dramatically simplifying VM workload management while maximizing investment into the Microsoft cloud. Konect Elite creates and manages both Server VM's and Client VM's, and delivers Client VDI desktops to users as a service, allowing businesses to quickly and easily take advantage of this new technology without having to invest a lot of time and money.
"Some businesses need a robust single-tenant VDI solution, while others need an effective multi-tenant RDS delivery. Some businesses even need both," states Alex Bethlehem, CEO for desktopsites. "In today's IT world, even the smallest SMB customers need to stay competitive with large enterprise when it comes to workstyles, and at the same time, different users work differently. This all means that SMB's these days need a solution that can quickly and easily deliver mixed VDI and RDS resources to users, and the BYOD Movement simply means that users need access to those resources from a myriad of client devices. We are very excited to now offer the ability to extend Konect VDI/RDS Clouds to these various BYOD devices, keeping users happy and productive no matter where they are or what device they're using."
To learn more about Konect Elite VDI / RDS Solutions, and to begin your free 30 Day Trial, visit http://desktopsites.com.
Additional Resources:
Product Brief (pdf)
Feature Primer (pdf)
Workstyles (pdf)
About Desktopsites:
desktopsites is a leading developer of innovative and cost effective Windows client and desktop virtualization software solutions for small and mid-size businesses. desktopsites is a privately held Canadian Corporation with head offices in Calgary, Alberta, Canada.
At desktopsites, our mission is clear:
"To become the premier developer and innovator of turnkey desktop virtualization solutions that enable small and mid-size businesses to excel."
This mission is about more than technological innovation. This is about recognizing the demands of today's economy and delivering solutions to address the daily challenges that SMB's face.