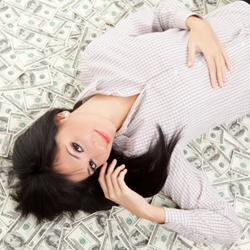 With a properly constructed and duly managed plan, Lynch could have clearly protected all her property and assets before she got married without even a prenup.
Boston, MA (PRWEB) November 19, 2014
Jane Lynch and her spouse finalized their divorce in Late October. Lynch is mostly known for her appearances on popular television series such as Two and a Half Men as well as Glee. She is also known for her roles in comedic films such as The 40-Year Old Virgin and Talladega Nights: The Ballad of Ricky Bobby (1). Lynch is a tall and attractive blonde who has been active in comedic and artistic circles since 1988. In 2009, she met Dr. Lara Embry at fundraising event; they moved in together soon thereafter and announced their engagement a few months later (2). Lynch and Dr. Embry tied the knot with a small ceremony in 2010.
This celebrity same-sex marriage became emblematic for advocates of gender equality under civil law. Although Dr. Embry and Lynch were residents of California when they met; however, they decided to get married in Massachusetts, one of the first states to legalize civil unions by spouses of the same gender (2). During their time together, the couple raised a little girl, Haden, who is Dr. Embry's daughter.
After four years of living together, the couple drifted apart. Citing irreconcilable differences, Lynch filed for divorce during the summer of 2013 (3). Lynch explained to talk show host Larry King that her decision to end the marriage was mutually agreed upon by both spouses, and that they felt that the time had come for them to amicably split. An Associated Press news story published by The Arizona Republic indicates that Lynch and Dr. Embry had been separated since 2012, and that they had been working on reaching an amicable financial settlement since that time (4).
Although the financial settlement of this marriage dissolution was amicable, it still took several months to finalize, and it took a bite of Lynch's net worth: As reported by CBS, Dr. Embry will receive $1.2 million from Lynch over the next two years. Further details of the settlement were reported by UPI: 50 percent of royalties paid to Lynch for her work on Glee will be transferred to Dr. Embry, and the couple also split a 401K plan, a checking account, and even a tax refund in excess of $55K (2).
"Lynch filed for divorce in California, where marriage dissolutions are handled under community property laws. This means that Dr. Embry had equal rights to her wife's earnings while they were married. In other words, the Golden State is 50/50 when it comes to divorce," explains Rocco Beatrice, Managing Director of Estate Street Partners, LLC, an asset management and estate planning firm.
Expanding on the Lynch divorce, Mr. Beatrice explains: "Jane Lynch could have avoided the long process of reaching a financial settlement agreement and the sizable reduction of her net worth if she had done some planning before getting married. In California and a few other states, the 50/50 split of property and assets can only be ameliorated by certain actions prior to the wedding, and we are not talking about prenuptial agreements."
"There is one thing that Lynch could have done before getting married to unconditionally protect her assets, including future royalties from her work on film and television. We would have advised her on setting up an UltraTrust®," explains Mr. Beatrice, whose firm also operates UltraTrust.com, a website where people can learn more about asset protection and estate planning topics.
"With a properly constructed and duly managed UltraTrust®, Lynch could have clearly protected all her property and assets before she got married," continues Mr. Beatrice. "Our UltraTrust® is a legal instrument that can be used for many purposes, and it is ideal for high-net-worth individuals who are thinking about getting married. Unlike a prenuptial agreement, the UltraTrust® does not require the signature of a future spouse. In fact, you are not even required to tell your future wife or husband about it. In case of a divorce, the judge only has to look into the trust to make sure that no assets were improperly transferred during the marriage. Let's say Lynch directed royalties of Glee to be paid to an UltraTrust®; in this case, she could have decided on the amount of spousal support that Dr. Embry will receive, and the process would not have taken as long as her settlement agreement did."
In conclusion, Mr. Beatrice stated: "We understand that Lynch cares deeply about Haden, the daughter she raised along with Dr. Embry during her marriage; she could have set up distributions to be paid at certain milestones, for example: a percentage of royalties could be paid when Haden graduates from high school of from college, and Lynch could even make arrangements to bequeath her property and assets in case she passes away. That's another benefit of our UltraTrust®: It also empowers individuals to do their own estate planning, so it is more than just an excellent way to protect assets before marriage."
About Estate Street Partners (UltraTrust.com):
For 30 years, Estate Street Partners has been helping clients protect assets from divorce and frivolous lawsuits while eliminating estate taxes and probate as well as ensuring superior Medicaid asset protection for both parents and children with their Premium UltraTrust® Irrevocable Trust. Call (888) 938-5872 to learn more.
#
1. IMDB, November, 8 2014 (imdb.com/name/nm0528331/)
2. United Press International, June 1, 2010 (upi.com/Entertainment_News/TV/2010/06/01/Report-Jane-Lynch-marries-Lara-Embry/UPI-53861275449788/)
3. CBS, October 29, 2013 (cbsnews.com/news/jane-lynch-and-wife-finalize-divorce/)
4. The Arizona Republic, October 29, 2014 (azcentral.com/story/entertainment/people/2014/10/28/jane-lynch-finalizes-divorce-from-lara-embry/18083419/)