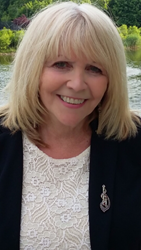 Thank you so much to everyone who valued me so much to recognize me for this prestigious award.
Warrington, PA (PRWEB) June 27, 2016
Janice Vollmer, RE/MAX Signature, is featured in a special section of the September issue of Philadelphia magazine as a 2016 Five Star Real Estate Agent award winner.
Five Star Professional partnered with Philadelphia magazine to identify and showcase an exclusive group of real estate agents who have demonstrated excellence in their field. Less than 7 percent of agents in the Philadelphia area received this recognition.
"I have been dealing in real estate in the Bucks/Montgomery County areas for the last 27 years. I have met so many wonderful people during this process, and I am so happy that I have developed quite a number of friendships that will last a lifetime. That is one of the things I love most about my profession," says Janice Vollmer of RE/MAX Signature. "It is so rewarding when you have helped someone and/or their family achieve their dreams of owning their own home. I try to take the pressure off my clients as much as possible by doing the things that need to be done to reach the final goal of turning over the keys. Whether it is giving keys to a new home or the key to your new future, it is very satisfying."
The 2016 Five Star Real Estate Agent award winners have been carefully selected for their commitment to professional excellence and overall client satisfaction. The award is based on rigorous research with significant focus on customer feedback and providing quality services.
"Thanks to all my past friends and clients. I look forward to meeting many new people in the future to add to my list. I pride myself with my characteristics of loyalty, honesty, tenacity, and integrity. Thank you so much to everyone who valued me so much to recognize me for this prestigious award," says Janice.
"The homebuying and selling process can be very stressful. Five Star Professional works hard to identify those outstanding real estate agents that can make all of the difference. Five Star Real Estate Agents are experienced professionals that get top marks from their clients and get results," says Josh Kimball, VP Marketing, Five Star Professional.
Five Star Professional has been conducting market research to define and promote professional excellence in service professionals since 2003. Its Five Star Real Estate Agent award program is the largest and most widely published real estate agent award program in North America.
Real estate agents are awarded based on an in-depth research process. Thousands of consumers are contacted to rate their real estate agent on ten evaluative criteria including customer service, market knowledge, negotiation, closing preparation and overall satisfaction. Beyond a qualifying client evaluation score, real estate agents are evaluated on objective criteria such as experience, production levels and disciplinary and complaint history.
There is no fee to be considered or awarded. Visit http://www.fivestarprofessional.com for more information.