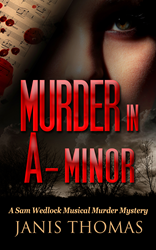 "'Murder in A-Minor' is a compelling, well-written read with a delightful musical twist." - Author Suzanne Redfearn, "No Ordinary Life"
Los Angeles, CA (PRWEB) May 25, 2016
A new book genre has hit the literary world, coined by former Penguin-published author Janis Thomas. In Thomas' new novel, "Murder in A-Minor", the story is not only a Murder Mystery, it's the launch of a new book genre – Triple-M: Musical Murder Mystery.
Thomas' first book in her musical murder mystery series (forthcoming in the series – "Murder in B Flat", "C Major", "D Sharp") is available today as an Amazon pre-order here. It will officially launch as both an e-book on the popular Sage Blog Tours, starting June 1, and in print on Amazon, May 31, 2016. Two complete songs from Thomas's character Samantha Wedlock, will accompany each book. Details of the upcoming launch can be found on the author's website, and to watch the book trailer, click here.
Author Suzanne Redfearn, "No Ordinary Life", says "`Murder in A-Minor' is a compelling, well-written read with a delightful musical twist."
Thomas has garnered five-star reviews in the publishing world for her page-turning plots, nail-biting suspense and clever wit, bringing comparisons to best-selling authors Janet Evanovich and Sue Grafton.
The novel's female protagonist, Sam Wedlock, who readers have coined "the next great female sleuth," uses music she composes in her head to help her solve puzzles and major life challenges: murders. The song lyrics offer clues to help readers solve the murder alongside the clever, but flawed, come-back detective.
This is "Murder in A-Minor":
– After botching a huge case with the New York PD, former detective Samantha Wedlock flees to her childhood home of Southern California to escape her demons with the Internet and booze. When her old flame, sexy Lieutenant Jack Hudson, shows up on her doorstep to ask for her help with the case of two murdered college coeds, Sam refuses. But she can't resist Jack and she can't resist the hunt, and soon she becomes embroiled in the investigation, using her music to guide her along the way. With her songs playing at full volume, Sam must re-sharpen her wits and learn to trust her instincts again in order to catch a cunning killer.
Author Thomas is also a singer/songwriter, with over fifty songs to her credit. Her work is dedicated to her late mother, Sharon, who proudly supported her creative pursuits. Thomas' novel and genre will launch the day after the 3rd anniversary of her mother's passing.
An entertaining speaker and engaging media guest, with a hilarious wit and "on-the-spot" life stories, Thomas can be reached at Janis(at)janisthomas(dot)com, janisthomas.com, on her Facebook page and Twitter, for print, radio, TV, podcasts and blog interviews.
Aside from being the creator of the Triple-M literary genre and author of "Murder in A-Minor", Janis Thomas is the award-winning author of three humorous women's fiction novels, "Something New", "Sweet Nothings", and "Say Never", which was chosen by Chick Lit Central as one of the best books of the year. Janis is a popular writing advocate and workshop leader at the Southern California Writers Conference and has given several key-note speeches at various writing events in the LA area.
Based out of Santa Barbara, CA since 2008, Innovative Creative is a PR company producing successful content and campaigns for music, film, publishing and non-profits. For more information, visit InnovativeCreativeCo (dot) com or email Margaux (at) InnovativeCreativeCo.com.