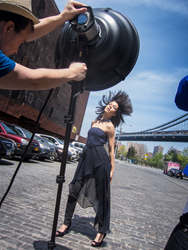 It is important to learn photography specifically for designers because to shoot their jewelry piece professionally, it might cost them the price of the piece itself.
New York, NY (PRWEB) January 10, 2017
Visionary artist and photographer Janusz Kawa will be teaching a two-day workshop for photography, designed specifically for jewelry designers at the New York Jewelry Design Institute (NYJDI). By catering to students with an individual approach, he will teach how to make jewelry stand out in photos, producing a digital product that will appeal to higher-end clients. The lessons will not only develop a designer's technical skills with a camera and image manipulation in Photoshop & Lightroom, but will also enhance their abilities to showcase their designs and creativity in an affordable, yet professional manner.
Kawa was born in Warsaw, Poland and came to Chicago in the 1970's to study photography at the Art Institute of Chicago. His work has been featured in the pages of highly recognized publications, including: French Vogue, Australian Vogue, GQ, Cosmopolitan, The New York Times Magazine and Interview. He is recognized for his ability to capture the true essence of subjects, whether in portraiture, fashion or product. Now based in New York City, Kawa is faculty at The School of the Visual Arts (SVA) and the International Center of Photography (ICP).
Kawa says, "It is important to learn photography specifically for designers because to shoot their jewelry piece professionally, it might cost them the price of the piece itself. Jewelry needs to be retouched and fined tuned in Photoshop. A designer might not be able to afford a professional photographer specializing in jewelry. A designer may need to update their website frequently and it's to their advantage to be able to update their portfolio as they finish their pieces."
Kawa's workshop at the NYJDI will be a hands-on training for designers that want to capture their designs in the perfect light. Jewelry photography is a specialized field, and lighting is one of the most difficult and challenging techniques, requiring both skills in lighting and patience.
Participants will bring their own jewelry, cameras, and laptops for working through camera settings and lighting techniques on their own pieces. After leaning how to shoot, students will be guided through the editing process, and how to maximize the capabilities of software to make jewelry look its best. By the end of the workshop, students will be well prepared with the basics needed to capture beautiful images of their designs for websites, line sheets and portfolios.
For designers that are interested in learning additional editing software skills, NYJDI is also offering a workshop in Sketching & Watercolor Effects with Photoshop. This workshop will be taught on April 9th, by Illustrator and Designer Martinu Schneegass, whose work has carried though several showrooms across the country; he has even designed his own fashion accessories line. Guided by techniques and expertise, participants will learn how to use filters and masks in Photoshop to sketch and design in digital watercolor. This course gives designers an opportunity to showcase their jewelry in a unique way, an additional step for advancing editing skills in Photoshop.
Jenine Lepara Izzi, Creative Director of NYJDI, says, "We are thrilled to have international fashion photographer, Janusz Kawa. Well known for illuminating the pages of Vogue, Cosmopolitan and GQ magazines with celebrity icons. The students at NYJDI will greatly benefit under his watchful eye as he guides them to see through their lens, how to bring the true colors of jewelry to light. Following up with Martuni Schneegass and his course on Sketching and Watercolor Effects, we are trying to continuously raise the bar with continuous education for jewelers—teaching them ways to integrate technology to best differentiate themselves and their designs in the market while studying at NYJDI."
Janusz Kawa's Photography for Jewelry workshop will take place on March 25-26, 2017, and Martinu Schneegass's Sketching & Watercolor Effects Session on April 9th, both at the NYJDI in New York City's diamond district.
For more information about the courses, contact NYJDI 212-951-1314 or email info(at)nyjdi(dot)com. For more information about this release, contact info(at)pietrapr(dot)com or call 212-913-9761.
About NYJDI
An educational haven for budding designers and jewelry pros looking to enhance their skills, the New York Jewelry Design Institute was founded in 2013 by Jenine Lepera Izzi, an interior designer turned jewelry designer who was inspired to pursue the field while living in Florence, Italy. The school was conceived out of a passion for design; a belief that the same design process used by the world's leading artists and designers could be applied to the jewelry industry. The school has since expanded the curriculum to include many new practical courses.