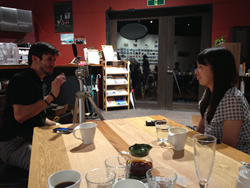 Kyō/Today/今日" is a 40-minute "short" documentary that will be premiering for the first time ever, for this special JACCC and Love to Nippon audience.
Tokyo, Japan (PRWEB) March 03, 2016
"Kyō/Today/今日", a new documentary, brings the harrowing tales of six survivors to an international audience, beginning with the world premiere on March 11, 2016 at the Aratani Theater of the Japanese American Cultural & Community Center (JACCC) in Los Angeles, California.
Producer/Director Austin Auger selected the JACCC, in the heart of LA's Little Tokyo, as an ideal venue because of his support for the Love to Nippon effort headed by Masako Unoura-Tanaka. JACCC will be the axis of Japanese culture, film, music, thoughts, and prayers on the 5th Year Anniversary of Japan's 3.11 Earthquake and Tsunami. At 5 p.m. on Friday, March 11, memorial and hope activities will begin outside the venue at the JACCC Noguchi Plaza.
Tickets are available at the JACCC box office here
Visitors can take this opportunity to record a personal video message addressed to those in Japan. This message will be shown to the people presented in the documentary when it is screened there later this year. Interactive activities including food, music, crafts, and networking with the community will also take place up until the time of the actual documentary premier.
"Kyō/Today/今日" is a 40-minute "short" documentary that will be premiering for the first time ever, for this special JACCC and Love to Nippon audience.
This documentary gives insight into the lives of six individuals who survived the March 11, 2011 Great Japan Tohoku Earthquake and Tsunami. These brave survivors share their stories and philosophies on how someone can possibly keep thriving even when so much is lost in life. What gives them motivation and purpose and what continues to bring them happiness each day.
Their stories will truly inspire, as their messages can be examples for people in troubling, seemingly hopeless circumstances around the globe. Following the film, join us for a soulful musical expression and tribute to all those affected by the tragedy.
A special prayer will follow the musical expression for all of those in Japan and around the world at exactly 9:46 p.m. , the moment the unprecedented earthquake struck off the coast of Northeastern Japan. To complete the evening, there will be a Q&A session with "Love to Nippon Project" founder Mrs. Masako Unoura-Tanaka who is also a survivor of the 3-11 tragedy. Director/Producer Austin Auger will also be on site to meet visitors and discuss his experience in Japan making the documentary.
Background:
Producer/Director Austin Auger, who himself is part Japanese, was drawn to Tōhoku following the devastating events of March 11, 2011, when a magnitude 9.0 earthquake jolted the seabed approximately 80 miles east off the coast of the city of Sendai in Miyagi prefecture. The quake sent a 30-foot surge crashing onto the coast of Miyagi as well as the prefectures of Iwate, Fukushima, Ibaraki and Chiba. The earthquake and tsunami would claim the lives of nearly 16,000 people, destroying schools, farms, public buildings and homes.
"I thought I could come out [to Japan] and give a little insight and share the stories," Auger said on a return trip to Tokyo in January of this year to follow up with those featured in the film. "What people were going through could be applicable worldwide."
Auger and his team spent one month in 2014 filming throughout the Tōhoku region, where he met six survivors of different ages, genders and backgrounds, including a teacher, a fisherman and a Zen priest. Their stories are captured in the 40-minute film, which is categorized as a short documentary. The film explores how grief is an experience that can connect us all, and Auger was overwhelmed by many displays of grace amid perils of recovery.
"A lot of people don't know where to start and what they need is hope," he said. "I saw a lot of smiles instead of tears."
Auger plans to enter the film into the international festival circuit to reach audiences around the globe. He wants to spread the film's message of perseverance despite unspeakable loss and remind audiences of the continuing need to support to areas around the world touched by natural disasters, such as the events in Japan.
Auger said he wants to share the very simple message of those he encountered in the Tōhoku region with the world: "Don't forget about us."
For More Information click here
Premiere Details:
Friday, March 11, 2016 at 7:30PM (activities outside start at 5 p.m.)
Aratani Theatre, JACCC
244 S. San Pedro Street
Los Angeles, CA 90012