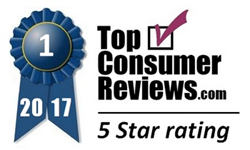 For all of these reasons, we are pleased to give Rocket Languages our top ranking among providers of Japanese Lessons in 2017.
Overland Park, KS (PRWEB) January 20, 2017
TopConsumerReviews.com recently gave a best-in-class 5 star rating to Rocket Languages, a leader among providers of Japanese Lessons.
From immersion-based elementary schools, to businesspeople looking to communicate more effectively with their colleagues in Japan, learning Japanese is more popular now than ever. Because it can be challenging to find in-person classes that are both convenient and affordable, many students of all ages are turning to online-based courses to study Japanese. Language lessons vary, both in the approach to learning the language as a whole, and in depth of content, so interested students must carefully examine what is offered in the programs they consider.
"Rocket Languages is a top provider of language instruction, and their Japanese lessons cover all three levels of complexity, from beginner to advanced," explained Brian Dolezal of TopConsumerReviews.com, LLC. "Rocket Languages takes a truly comprehensive approach to teaching a new language, including material that will appeal to visual and auditory learners alike. What really stands out about their Japanese program is their instruction in all three character systems used in Japan: kanji, hiragana, and katakana. This makes Rocket Languages' program particularly useful for people planning on spending time in Japan, because they will encounter all three written forms of the language. And, with a 60-day, 100% money-back guarantee, Rocket Languages makes it truly risk-free to try their Japanese lessons. For all of these reasons, we are pleased to give Rocket Languages our top ranking among providers of Japanese Lessons in 2016."
To find out more about Rocket Languages and other Japanese Lesson providers, including reviews and comparison rankings, please visit the Japanese Lessons category of TopConsumerReviews.com at http://www.topconsumerreviews.com/japanese-lessons/.
About Rocket Languages
Rocket Languages is one of the world's leading providers of online learn-a-language software packages. Setting themselves apart from the competition by placing a strong and immediate emphasis on what they call conversational learning, their dynamic learning courses have students speaking the language in a modern, fun, and conversational manner right from the start. Originally starting with Rocket Spanish in 2005, Rocket Language has expanded to include Arabic, German, Hindi, Korean, and American Sign Language, among others.
About TopConsumerReviews.com
TopConsumerReviews.com, LLC is a leading provider of independent reviews and rankings of hundreds of consumer products and services. From Japanese Lessons to Expedited Passports and Travel Insurance, TopConsumerReviews.com delivers in-depth product evaluations in order to make purchasing decisions easier.