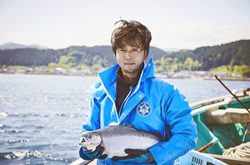 Our organization is proud to support this initiative which seeks to support Japanese producers to have a comprehensive approach to sustainable seafood.
SAN FRANCISCO (PRWEB) February 14, 2022
The Japanese External Trade Organization (JETRO) is funding a promotional campaign to promote, foster, and educate the U.S. market on Japanese sustainable aquaculture and fisheries and Japan's seafood products via a series of events in January and February 2022. "Our organization is proud to support this initiative which seeks to support Japanese producers to have a comprehensive approach to sustainable seafood. We hope this approach which incorporates many important sustainability issues will expand the reach of these products beyond traditional Japanese restaurants," says Osamu Taki, Head of JETRO LA.
Japan is a highly unique country known for premium consumer brands all around the world but this has not been the case for the seafood industry because historically most of the seafood produced in Japan has been consumed in Japan. However, the demographics are changing and now younger generations are eating more terrestrial proteins, allowing seafood companies to export to new markets. The uniqueness of Japanese seafood products comes from high-quality processing standards, unique attention to animal welfare and processing techniques, and a strong history.
The series of promotional events in the U.S. includes a partnership with Chef Kyle Connaughton from SingleThread. "Postelsia has been supporting the improvement of Japanese fisheries and aquaculture producers for the last 4 years along with our partner Sea Tech Trading, I am honored to have the opportunity to bring the story of this work to the U.S. market." Corey Peet from Postelsia will be another key spokesperson for the initiative. "I am thrilled to be educating the U.S. market about the unique aspects of Japanese sustainable seafood. It is critical that we start to see sustainability from a place-based lens in order to bring more storied products to the U.S. consumer," says Peet. This initiative will include events across the country with a final stop in San Francisco with a dinner with Chef Connaughton at The Progress.
Jan. 25: Lucky Robot, Austin, TX, with Chef Jay Huang
Jan. 26: Rioja, Denver, CO, with Chef Jennifer Jasinski
Feb. 7: Socalo, LA, with Chef Mary Sue Milliken
Feb. 8: James Beard House (NYC) with James Beard House Fellows
Feb. 9: Haymaker, Charlotte, NC, with Chef William Dissen
Feb. 17: The Progress, San Francisco, CA, with Chef Kyle Connaughton
About JETRO
JETRO, or the Japan External Trade Organization, is a government-related organization that works to promote mutual trade and investment between Japan and the rest of the world. Originally established in 1958 to promote Japanese exports abroad, JETRO's core focus in the 21st century has shifted toward promoting foreign direct investment into Japan and helping small to medium size Japanese firms maximize their global export potential.
About Sea Tech and Nemo Glassman
After spending much of his life in the Japanese archipelago, Nemo Glassman founded Sea Tech Trading to support growth of seafood producers through international market initiatives, technology development, and sustainability improvements. Japan has long been known for the highest quality of seafood and now partnerships with the Japanese government and key players in the industry has allowed Sea Tech to bring topics such as carbon neutrality, transparency, traceability, and sustainable farming and fishing practices to the forefront of the Japanese seafood industry.
About Kyle Connaughton & SingleThread
Kyle Connaughton is a chef, culinary educator, and cookbook author. Along with his wife and farmer Katina Connaughton, he opened SingleThread in Healdsburg, California in December 2016. SingleThread received a four-star review from the San Francisco Chronicle and is the first and only three Michelin-starred restaurant in Sonoma County. In 2018, SingleThread received the Worlds 50 Best Restaurants' "Miele One to Watch" Award. In 2020, The Michelin Guide presented SingleThread with a Green Star, its first year of awarding restaurants in the United States for their efforts in gastronomic sustainability. In 2014 he published "Donabe- Classic and Modern Japanese Clay Pot Cooking" with co-author Naoko Takei Moore. Kyle is a Professor Emeritus with the Culinary Institute of America.
About Stuart Brioza & The Progress
A vehicle for a completely local production. Innovative contemporary Californian meals served with memorable wines. The greatest dinner party ever. Stuart Brioza is the Chef/Owner of State Bird Provisions, The Progress, and The Anchovy Bar in San Francisco. Stuart and his partner Nicole Krasinski opened the award-winning State Bird Provisions, which has introduced a new way of thinking about dining and service. Expanding on those ideas, in December of 2014, Stuart and Nicole opened The Progress to critical acclaim. Living up to the name, The Progress continues to evolve and impress.
About Postelsia & Corey Peet
At Postelsia, they believe that improvements in seafood need to foster equity and shared value across the supply chain. In creating innovative solutions with producers, they aim to connect their projects to consumers, retailers, and chefs who have a strong commitment to responsibly produced seafood. Postelsia provides a range of programs and consulting services designed to manage risks to buyers associated with social and environmental impacts, and also to help maximize value for the producers themselves. They are in constant evolution and growth as a company, and as the newest division of Where Food Comes From, a Colorado-based company that offers a wide array of verification and certification services, we will continue to innovate through partnerships and integrated technology.