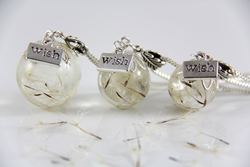 May the wind carry your wish and may your wish come true.
Chemainus, British Columbia (PRWEB) January 05, 2016
Jasmine Thyme Designs (http://www.JasmineThyme.etsy.com), in association with The Artisan Group®, will gift its Dandelion Wish Necklace to celebrities at GBK's 2016 Golden Globes Celebrity Gift Lounge. The Gift Lounge takes place January 8-9, 2016 at an exclusive location in Hollywood, California.
Sheri Dussealt, designer/founder, Jasmine Thyme Designs, is a life-long artist and designer. She is best known for her handcrafted resin and pressed flower jewelry and gifts, in which she incorporates flowers and other botanicals that she grows, dries and dyes herself.
The Dandelion Wish Necklace (retail $31.00 Canadian) that will be gifted to celebrities at the Golden Globes is made from jewelry grade resin and real dandelion seeds.
Sheri describes her inspiration for the necklace this way: Remember as a child, blowing on a dandelion puff and wishing your very hardest? Maybe some grouchy grown up told you, you were just spreading weeds… but you knew your wishes were being carried by the wind to that magical place where dreams come true. This necklace captures that childhood innocence.
She chose to gift the Dandelion Wish Necklace at the Golden Globes because, as she says, "Even the rich and famous have wishes."
The necklace will be presented in wrapped tissue paper enclosed in a pretty organza bag decorated with a flower. Included will be a card that says, "May the wind carry your wish and may your wish come true." The package will be nestled inside the Artisan Group's classic black swag bag.
Sheri has been working with resin in her jewelry creations for about two years. Previously, she had a brick and mortar store for over 20 years, where she designed all the clothing and most of the jewelry. She describes herself as very artistic and loves photography, writing, gardening and anything creative.
Sheri's Wish pieces are some of Sheri's her most popular, as are her Moss and Woodland pieces, which she believes is because, "We all have a desire to reconnect with nature." Another best-seller is the Terrarium Collection, which consists of tiny vials filled with flowers, perfect for brides to give to their bridesmaids using the color or flower themes of their weddings.
Journalists who would like to reach out to Sheri can do so using the Email button at the right-hand side of this press release.
Jasmine Thyme Designs jewelry is available online at http://www.JasmineThyme.etsy.com. Jasmine Thyme is also on Facebook.
ABOUT JASMINE THYME DESIGNS
Jasmine Thyme Designs (http://www.JasmineThyme.etsy.com) is the home for unique jewelry created by Sheri Dussealt using resin and flowers that she grows, dries and dyes herself! Each piece of resin jewelry is unique and one of a kind. Sheri uses jewelry grade resin and quality findings so each unique resin piece will last years and years.