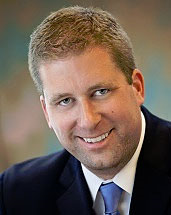 Jason possesses a rare drive that allows him to be one of the best at what he does.
St. Louis, MO (PRWEB) October 07, 2014
Growe Eisen Karlen's managing partner, Gary Growe, recognizes the huge honor bestowed upon his colleague. "It is a great honor to have a Growe Eisen Karlen attorney recognized by a trial lawyer national organization like the National Trial Lawyers," Growe says.
Charpentier's practice has long centered around helping those injured by the careless actions of others. The Growe Eisen Karlen partner's acceptance into Top 100 Trial Lawyers is a sign that Charpentier takes that role very seriously, and further, that it's a role at which the 11-year veteran excels.
The National Trial Lawyer s is a professional organization composed of the nation's top trial attorneys, particularly those exhibiting qualifications as counsel for civil plaintiffs and defense lawyers in criminal cases. Members of the National Trial Lawyers receive high quality advocacy training and education geared exclusively toward trial lawyers as part of their membership.
The organization operates with the goal of promoting excellence in the legal profession through that advocacy and education. Accepting Jason Charpentier into their ranks, Growe Eisen Karlen's Gary Growe notes, is certainly one way to meet that goal.
"Jason possesses a rare drive that allows him to be one of the best at what he does. With his acceptance into the National Trial Lawyers' Top 100 Trial Lawyers, his drive and talent is being recognized in a big way."
About Growe Eisen Karlen:
Growe Eisen Karlen is a full litigation firm located in St. Louis, Missouri, which has Personal Injury Lawyers , employment lawyers, domestic and family law issues, as well as general business litigation. To learn more, visit http://gatewaylawyers.com.