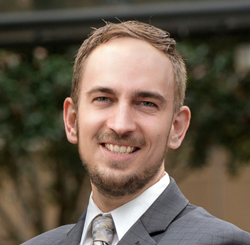 Behavioral Wealth Management expands on traditional wealth management by going beyond finance to focus on clients' priorities & passions so we can help them use their wealth to create extraordinary lives. This innovative approach is why I chose GV.
Atlanta, GA (PRWEB) June 29, 2016
GV Financial Advisors, the Atlanta Behavioral Wealth Management firm, is pleased to announce that Jason Eagle has joined the firm as a financial advisor.
During his seven years as a financial advisor to high net worth clients at Mercer Advisors, Jason noticed a troubling trend among some of his clients: although their financial needs were fully met, something was missing—and it kept them from fully enjoying their lives.
"I kept noticing this pattern," Jason explained. "Financially, they were in fantastic shape, but something was holding them back from living meaningful, fulfilling lives. This inertia could be partially explained by their belief that they always needed more money, but these incredibly successful people also seemed confused about their own priorities and passions, particularly within families."
"I chose to move to GV since they have figured out a way to address this void," he added. "GV has spent more than a decade developing Behavioral Wealth Management. It's based on the scientific principles of Behavioral Economics & Behavioral Finance to help clients uncover ways their wealth can be used to create extraordinary lives," he continued. "This approach really resonated with me and has helped fulfill my desire to provide the highest level of service possible to my clients."
"We are excited to have Jason join our team of financial advisors," said Gary Whitehurst, GV's Executive VP. "He has tremendous financial planning experience and the ability to build strong personal relationships with his clients. Jason's style aligns perfectly with GV's Behavioral Wealth model, mission & goals. We're tremendously pleased to have him on board."
Jason is a Certified Financial Planner (CFP®) and holds licenses for FINRA® Series 6 and 65, and the Georgia Life & Health Insurance and Georgia Variable Products licenses. He earned his Bachelor of Science in Family & Consumer Sciences – Family Financial Planning from the University of Georgia as well as an Associate of Arts in Psychology degree from Gainesville State College. An advocate of meditation and a certified Reiki Master Teacher, Jason resides in Atlanta with his wife Tracey-Ann. Contact him here.
ABOUT GV FINANCIAL ADVISORS
Believed to be the first and only Behavioral Wealth Management firm in the U.S., GV has invested over a decade applying the scientific principles of neurobiology, Behavioral Economics and Behavioral Finance to create a new paradigm in wealth management. Established in 1991, GV is one of the leading registered investment advisory firms in Atlanta with 46 employees and $1.125 billion in assets under management as of December 31, 2015. Over the years, GV & its team have earned spots on a number of prestigious lists, including Barron's Top U.S. Investment Advisors, REP's Top 100 U.S. Registered Investment Advisors, Financial Advisor's U.S. RIA Ranking, & the Financial Times FT 300, based on assets under management and other factors. Their writings have appeared in publications including The New York Times, The Wall Street Journal and The Huffington Post. To learn more, visit gvfinancial.com.