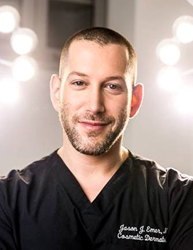 Beverly Hills, CA (PRWEB) December 13, 2016
Dr. Jason Emer believes his patients are never too old, and it is never too late to look and feel their best with life-changing surgeries. Tune in to watch Dr. Jason Emer as he talks about procedures for older patients and helps one patient through a major transformational surgery on the Emmy Award-winning, syndicated daytime series, "The Doctors."
Dr. Emer performed hi-def liposuction and fat transfer using very innovative body contouring techniques on a woman over 60 with four kids and previous extreme weight loss -- proving it's never too late to transform your body and enhance your life. Dr. Emer joined forces with plastic surgeon Dr. Sheila Nazarian, who performed a tummy tuck, a breast lift, facelift, and upper eyelid surgery. Together, they used their expert skills and signature combination surgeries to transform this woman's life. The team collaboration approach between a plastic surgeon and a hi-def liposuction specialist gave the patient the best results for a total body transformation. See what the patient had to say!
Dr. Emer is a board certified and fellowship-trained cosmetic, laser, and procedural dermatologist, who specializes in surgical and nonsurgical body contouring, hi-definition body sculpting and etching, fat transfer, cellulite reduction and skin tightening. He is an expert in performing cutting edge, state-of-the-art procedures with nontraditional approaches.
To watch, check local listings or visit http://www.thedoctorstv.com/ for more information.
If you are considering treatments by Dr. Jason Emer, please visit his website at https://jasonemermd.com/.
Follow Dr. Jason Emer on Facebook, Snapchat, Instagram, and Twitter @jasonemermd.
For Reviews: Realself.com & Yelp.com
Contact: Media@JasonEmerMD.com
More Information on Dr. Jason Emer:
Dr. Jason Emer's main practice and passion are liposculpture and body sculpting/etching procedures. For obtaining the best results, with the least amount of downtime, and for patient safety reasons, all procedures are performed using a local fluid called "tumescent anesthesia," which allows for a comfortable surgery with little risks. Dr. Emer uses all of the advanced technologies for body contouring/etching to tailor his results to each person's concerns, no single device or type of liposuction is used. Multiple devices -- such as VASERLipo, SmartLipo, and BodyJet -- and techniques -- such as superficial muscular etching and power-assisted fat removal (PAL) -- are employed during each surgery to get the ultimate results and best long-term outcomes.
After completing a preliminary medicine internship in Chicago, Illinois, at the Saint Joseph Hospital, Dr. Emer completed a two-year dermatopharmacology fellowship at The Mount Sinai Hospital in Manhattan, New York. He spent a significant amount of time conducting clinical trials on investigational treatments in cosmetic, laser and surgical dermatology. Dr. Emer's work has led to a number of medications and devices to be FDA approved for conditions such as passive wrinkles and folds of the face, dynamic movement wrinkles/lines, facial lipoatrophy, facial pigmentation/melasma, photodamage/actinic keratoses, hemangiomas/vascular birthmarks, and tattoos. Throughout his residency training, he focused the majority of his cosmetic interests in the area of body contouring/sculpting, liposuction, and fat harvesting and transfer, learning from world-renowned experts in the fields of dermatology and plastic surgery. He began an HIV treatment clinic where fat transfer, facial fillers, and other cosmetic and plastic surgical procedures were used to enhance facial features and address body disproportions. Dr. Emer was chief resident in his final year of dermatology residency. After finishing his residency, he moved to San Francisco, California, to further advance his training in the area of facial fillers, chemicals peels, laser and light treatments, skin cancer surgery, and plastic surgery, such as scar revision and hi definition body sculpting/etching and fat transfer.
He is one of a select few surgeons in the United States to perform 4D (four dimensional) body contouring/etching, in which he precisely and meticulously defines target areas to not only remove fat but also contour and define circumferentially. He uses this technique to "etch" six packs and create highly defined musculature, such as the chest, buttock, breast, and calves. With the latest advances in fat harvesting with water-assisted removal (WAL), he can use your body's own fat and platelet-rich plasma (PRP) to contour the surrounding areas and define the underlying muscles. Harvested fat can be transferred to other areas to address concerns such facial wrinkles and lack of volume, hand veins and aging, buttock and breast size and lifting, and the muscular size and bulk of the chest, biceps, calves, shoulders, and quadriceps. Cellulite and skin tightening are also addressed with each individual case and can be improved with a combination of surgery, lasers, fat transfer, and/or external heating/suction devices to get the ultimate results in body contouring procedures.
Dr. Emer is a leading expert in cosmetic and laser dermatology utilizing the latest advancements in non-invasive treatments for aging. He utilizes combination treatments to get the ultimate results and customizes treatments to the patient's skin type and long-term goals. His interests include acne and traumatic scars, abnormal pigmentation, burns, and anti-aging/rejuvenation combination treatments. He personally treats all his patients to ensure the best results and doesn't delegate to other staff in most instances.