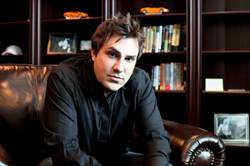 (PRWEB) September 10, 2014
Just around the corner is a future where everything from cars to coffee mugs come with programming attached. It's a little like a virtual environment as in a video game: They don't just model a soda can and put it on a shelf, they model it, and then program it. The soda can knows if the player has picked it up, it knows if it's been thrown across the room or if the player has consumed its contents.
The Internet of Things isn't just for things with a lot of moving parts. It doesn't just mean that somebody's car, credit card, and iPhone will be able to provide one another with on-the-fly updates. The Internet of Things means football helmets that can detect possible injuries the second they happen, egg cartons that tell the store manager when a shell is broken, and bus drivers knowing whether or not there's anyone waiting at the next stop a mile before they get there.
It's not hard to guess that there are going to be air conditioners that stay informed of incoming cold fronts or advertising screens in supermarkets that know what sort of restaurants one searches for on their phone, and therefore, which foods to market to them. The Internet of Things will revolutionize medical technology, transportation, marketing and so on, most people at this point well aware of this and there isn't a lot of reason to go over Google Cars and self-monitoring pacemakers over and over again.
The heart of the revolution is something that's very adaptable: computer chips that are smaller and cheaper than ever before, and getting smaller and cheaper still. Already there are completely disposable chip-enabled items, such as pre-paid debit cards that users cut up and throw away once they're empty.
The Internet of Things is just that, an internet of things, not just machines. Once developers start thinking beyond appliances, wireless devices and other electronic consumer goods, a world of possibility opens up. So what devices will be most affected by the Internet of Things? All of them.
To read the full article, please visit http://jasonhope.com/the-internet-of-things-think-small-and-think-big/
About Jason Hope:
Philanthropist and futurist Jason Hope is a Scottsdale native with a passion for health and technology. His work has brought funding to many important organizations, both in Arizona and in other states, including the Tony Hawk Foundation, Family Health International, T Gen Foundation and the Worldwide Orphans Foundation. Most recently, Hope has been making headlines for his work with the SENS Research Foundation, a non-profit dedicated to fighting aging. Learn more about his work at http://www.jasonhope.com.