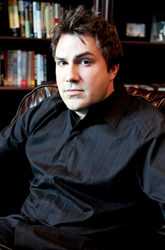 The shift to IoT is going to be consumer driven, and perhaps the best way to bring the future a little closer is simply to support the companies working in IoT concepts today with a purchase
Scottsdale, AZ (PRWEB) September 15, 2014
Users who keep their antivirus software up to date, users who don't go opening every random EXE sent to them via email, and who know to avoid unsafe sites don't have too much to worry about when it comes to internet security. Common sense, preventative measures and safe browsing eliminate the vast majority of risks posed to users online.
But, what happens when it's not just laptops, PC's and phones? What happens when it's self-driving cars, prosthetic hands and hotel room doors that are online?
Well, here's the boring truth about hacking: it's mostly just stealing credit card numbers, and hackers usually just a high tech version of going through someone's trash, and most computer criminals don't even do big "heists" where they raid bank accounts and rack up thousands on credit cards. More often than not, they steal a few dollars here and a few there, just enough to not get reported. There is a possibility of seeing devices hacked in more sophisticated ways, but that's not what 99% of computer criminals are interested in.
At the end of the day, security isn't going to change all that much. Security software will continue to identify known viruses and ever-improving password encryption will generally keep hackers out. The only thing that will really change when it comes to internet security is that it's not just the computer at risk, it's everything in the house.
There is a reasonable argument to made that we're putting too much at risk, but the truth is that we're already at risk. Someone can steal a car with a crowbar and a screwdriver much more easily than they could hack a self-driving car. However, a self-driving car will be able to drive itself back home.
Said Jason Hope "It's reasonable to be concerned when it comes to security and IoT, but it's hard to imagine that the benefits won't outweigh the risks."
The Internet of Things may make everything hackable, but it's a self-correcting problem in many cases. Who wants to steal a widescreen TV with built in GPS tracking? Who wants to steal a camera that sends all the photos back to its original owner's PC? The best security feature when it comes to the Internet of Things may be the Internet of Things itself.
To read more please visit: http://jasonhope.com/what-kind-of-security-threats-are-most-exposed-by-iot/
About Jason Hope:
Philanthropist and futurist Jason Hope is a Scottsdale native with a passion for health and technology. His work has brought funding to many important organizations, both in Arizona and in other states, including the Tony Hawk Foundation, Family Health International, T Gen Foundation and the Worldwide Orphans Foundation. Most recently, Hope has been making headlines for his work with the SENS Research Foundation, a non-profit dedicated to fighting aging. Learn more about his work at http://www.jasonhope.com.