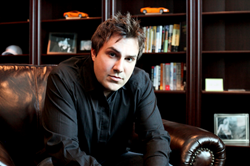 Anyone looking to invest in cutting edge technology would be wise to remember that there is no Internet of Things without no-power Wi-Fi
(PRWEB) September 18, 2014
Whenever the Internet of Things comes up in conversation, people want to talk about security risks; they want to talk about the problems that arise when every object in the house knows their credit card number. But what's the one concern people always seem to overlook when discussing the Internet of Things?
Who has the outlets on hand to plug all those things in?
When everything from the curtains to the litter box is hooked up to the web, life may generally become a little more convenient, but will it be worth the immense energy bills associated with a fully automated home?
This is where no-power Wi-Fi comes in.
The technology is still young. At present, researchers have managed to get a rate of about 1kb per second at a range of only two meters, but it's a start, and more than enough data for many basic Internet of Things enabled devices.
Previous research in the area showed that low-powered devices, temperature sensors, for instance, could actually harvest energy from existing signals in the air coming from radio, television and wireless devices. The challenge: conventional Wi-Fi demands four times as much power as it can get harvesting it from thin air.
The way the prototype works right now is by looking for Wi-Fi signals, and either reflecting or not reflecting the signal, slightly changing it in the process. Think of it like using a mirror to light up a room. No need to turn on a lamp, just bounce sunlight into the bedroom from outside. The energy needed to decide which signals to reflect and which to ignore can be harvested from existing Wi-Fi signals easily enough, and then it's easy to send those signals back into a two-meter radius.
The difficulties facing developers should be obvious. How will they get the signal to transmit more than two meters, and how will they bring those transfer rates up to a reasonable speed? 1kb per second might have been impressive thirty years ago, but today that would mean spending several minutes to download a single text document, and days on end to stream a video.
"Anyone looking to invest in cutting edge technology would be wise to remember that there is no Internet of Things without no-power Wi-Fi", says Jason Hope.
No-power Wi-Fi extends Internet of Things technology to everything, rendering expensive, unwieldy ideas affordable, and even disposable.
To read the full article please, visit: http://jasonhope.com/no-power-wi-fi-and-how-it-could-fuel-the-internet-of-things/
About Jason Hope:
Philanthropist and futurist Jason Hope is a Scottsdale native with a passion for health and technology. His work has brought funding to many important organizations, both in Arizona and in other states, including the Tony Hawk Foundation, Family Health International, T Gen Foundation and the Worldwide Orphans Foundation. Most recently, Hope has been making headlines for his work with the SENS Research Foundation, a non-profit dedicated to fighting aging. Learn more about his work at http://www.jasonhope.com.