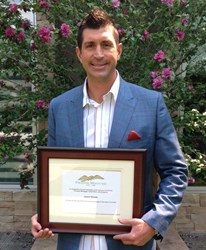 Thank you to Freedom Mortgage for all your support in 2012.
Denver, Colorado (PRWEB) October 16, 2013
Jason Ruedy of The Home Loan Arranger was named the top mortgage broker in all of Colorado for 2012 by the Freedom Mortgage Corporation. The accolade was given in recognition of his performance last year when he out-produced other companies with multiple loan originators.
Known throughout the mortgage industry as "The Home Loan Arranger," Jason Ruedy posted a total volume of $33,230,479 in the previous year—a factor that made a huge impact on his selection.
"Thank you to Freedom Mortgage for all of your support in 2012," Jason Ruedy said. "Getting ranked #1 in Colorado took a lot of hard work and dedication from me and my team."
Aside from getting this nod from Freedom Mortgage's experienced lenders, he was also named as a top mortgage broker in Denver for 2012 by industry-leading publication Scotsman Guide. The magazine ranked his firm second overall among the leading loan producers in the state of Colorado.
Both honors proved encouraging to Jason M. Ruedy, Denver Mortgage Broker. "This award is very rewarding to me, because I strive to be #1 everyday," he said of his latest recognition. "This should be a huge indicator why Coloradans should use the Loan Arranger for all their mortgage needs," he added.
To serve his clients, Jason Ruedy uses his extensive knowledge of the mortgage industry, especially of wholesale and retail loans, which he has solidified over two decades. He guides and assists his clients in working out appropriate mortgage solutions, striving to exceed their expectations every time. He specializes in residential and conventional loans, FHA and VHA loans, refinancing, and purchasing.
He also handles various problems and concerns that involve property evaluations, investments across states, or unfavorable financial situations. He deals with his clients in a professional manner while making the entire lending process much easier and faster.
About Jason M. Ruedy
Jason Ruedy is one of the most trusted and most reputable mortgage brokers in Denver and has been helping clients secure various types of loans for the past 20 years. He is a member of the Colorado Association of Mortgage Brokers, the Denver Chamber of Commerce, and the Better Business Bureau.
For media inquiries, please contact:
The Home Loan Arranger
512 COOK ST #100
DENVER, CO 80206
United States
(303) 862-4742