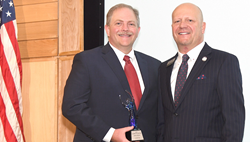 "Gwinnett Technical College was the launching pad for my career"
LAWRENCEVILLE, Ga. (PRWEB) October 31, 2019
Jason Moss, CEO of the Georgia Manufacturing Alliance (GMA), was named Gwinnett Technical College Alumnus of the Year for 2019. Moss was honored at the college during a ceremony on Oct. 11.
Moss attended Gwinnett Technical College in 1995 following his service in the United States Air Force, taking classes in Computer Aided Design (CAD). "This was the launching pad for me, to be able to do some really cool stuff," said Moss. "I ended up teaching here at Gwinnett Tech. I taught Level I and Level II Auto CAD and really loved it."
Moss pursued a career in sales where he came into contact with Georgia manufacturers. "I found that there was really not a lot of opportunity for manufacturers to get together and connect so I founded the Georgia Manufacturing Alliance." Founded in 2008, GMA's purpose is to connect Georgia manufacturers and support the industry by exploring best practices.
Moss was selected as Alumnus of the Year for his achievements with the manufacturing industry in Georgia.
Gwinnett Tech is celebrating its 35th anniversary this year and is the 24th largest 2-year college in the United States. In January 2020, Gwinnett Tech will debut the mechatronics program to serve advanced manufacturing companies in Gwinnett and North Fulton counties.
GMA is a membership-based industry organization founded in 2008 to support Georgia's manufacturing community. GMA provides monthly plant tours, educational sessions, tradeshows, and unique networking opportunities designed to help make profitable business connections for its members. The Georgia Manufacturing Directory, Georgia Manufacturing Summit, Georgia Manufacturing Calendar, and BuyFromGeorgia.com are additional resources produced by GMA. To learn more about the organization, membership, and upcoming events, please call 770-338-0051 or visit their website http://www.GeorgiaManufacturingAlliance.com.