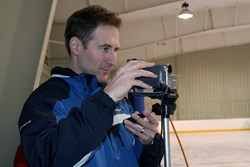 This countdown has become one of the most popular events of the year for figure skaters and figure skating coaches.
Madison, WI (PRWEB) January 31, 2014
Figure skating tips website iCoachSkating.com has announced a list of the top-rated figure skating videos on the website in 2013 as voted by subscribers. These figure skating videos represent some of the best figure skating tips available online from some of the top coaches in the world. These educational figure skating videos are appropriate for all figure skating participants, including figure skating coaches, skating parents, youth figure skaters and adult figure skaters. The videos cover such topics as figure skating jumps, figure skating spins, and other figure skating moves.
iCoachSkating.com was launched in 2008 as a response to the lack of high-quality educational material for figure skating coaches on the Internet. Website founder and figure skating coach Trevor Laak created the website as a way to share cutting-edge teaching techniques from some of the best coaches in the world. Subscriptions were initially restricted to figure skating coaches, but access to the website was expanded in 2011 to all figure skating participants. The website has seen steady and continuous growth over the last 5 years according to Laak.
Each year since the website was founded, and end-of-year countdown has been held of the top-rated videos. The countdown runs from December 26 through December 31 each year. Laak noted, "This countdown has become one of the most popular events of the year for figure skaters and figure skating coaches." The top-rated videos are determined by nominations from the website's large subscriber base. These videos provide detailed information about how to figure skate.
In today's announcement, the 6 Top-Rated videos, presenters and topics were discussed:
In the #6 video, legendary Olympic coach Frank Carroll shares details of proper air position for jumps. Carroll discusses the backspin and describes the asymmetrical air position required for rotating fast while giving the best chance for successful landings.
In the #5 video, Trevor Laak compares 3 different triple lutzes. Laak compares triple lutz jumps of Brandon Mroz and former US Men's Champions Ryan Bradley and Max Aaron. The video discusses common misconceptions and shows the wide range of technique that can be used to accomplish the lutz jump.
In the #4 video, coach and choreographer Chris Conte teaches an edge class. Conte offers methods to generate edge power while maintaining posture and alignment. This is the first of a 7 part series. Part 7 of the series was also included as part of the countdown.
In the #3 video, Olympic coach Kori Ade teaches an off-ice jump class. This video is a portion of the class that focused on quickness, rhythm, and balance, including eight different jump drills. 2014 US Men's silver medalist and 2014 Olympic team member Jason Brown is one of the demonstrators in this video.
In the #2 rated video, jump expert Nick Perna teaches the flip jump. Perna introduces the flip jump and covers important concepts and foundational information. This is part 1 of a 4 part series.
And in the top rated video of 2013, World and Olympic coach Tom Zakrajsek teaches an axel class. Zakrajsek covers every aspect of the axel in this 7-part series. The entire 7-part series is included and is therefore free to all visitors!. This series alone contains hundreds of figure skating tips on how to land an axel jump.
This list represents the best figure skating videos at iCoachSkating.com and they cover a wide range of topics from basic skating skills for young skaters to elite jump technique for advanced skaters. Each video contains multiple figure skating tips and tricks as well as detailed explanations of the underlying foundational concepts.
iCoachSkating.com is currently open to new subscribers. Subscriptions are available on a monthly, 6-month, and annual basis and are renewed automatically. Those interested in "how to figure skate" or "how to teach figure skating" are encouraged to Like the iCoachSkating.com Facebook page, follow iCoachSkating.com on Twitter, or sign up for free updates on the home page of the website. The website contains over 500 educational figure skating videos, making iCoachSkating.com the leader in online figure skating education. Subscribers can use the Archive section, the Coaches section, or the Search function on the website to access all the videos.
About: Founded in 2008 by figure skating coach Trevor Laak, iCoachSkating.com is the premier online training and educational resource for all figure skating participants, providing instructional figure skating videos on a broad range of topics, including figure skating jumps, figure skating spins, and other figure skating moves. The website has helped thousands of figure skating coaches, adult figure skaters, figure skating parents, and youth figure skaters by providing cutting edge training techniques and information about how to figure skate and how to teach figure skating. The company's mission statement is "to inspire a new era in figure skating education based on updated information and ideals, so quality information is available to all skaters and coaches in a convenient and cost effective manner." To learn more about iCoachSkating.com, please call (608) 827-3035 or visit them online at http://icoachskating.com.