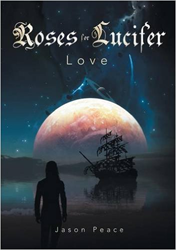 UBERSBACH, Austria (PRWEB) June 23, 2016
After their untimely death, Will discovers his twin brother, Luke, was actually an incarnation of the Devil who now hates him, along with all other humans, and plans to destroy the planet with all its inhabitants. In an attempt to save Earth, Will tries to befriend the Devil with whom he ends up falling in love in author Jason Peace's debut novel, "Roses for Lucifer: Love" (published by Lulu).
Will – the only human in a world filled with gods, angels and demons – has flaws and weaknesses, but despite his deficiencies, he fights against a power much greater than his own, no matter how hopeless the situation may seem.
Peace says he has always enjoyed stories about the afterlife. "I'm very concerned about our world and the society we live in," he says, "so I guess that everyday life is my biggest inspiration. Seeing how humanity is developing provides me with a lot of material to write about, with all its good sides and bad ones."
Peace adds that his book is different than others, because "though it deals with the very common topic of homosexuality, unlike in most other books of that genre, it is not at all an issue. Due to the fact that (Will and Luke) are both dead, no one actually cares and it doesn't become a social problem. No one questions this or causes them any problems because souls have no gender, so their romance is free to develop naturally without social or personal interferences."
"Roses for Lucifer"
By Jason Peace
Softcover | 5.83 x 8.26in | 374 pages | ISBN 9781483452890
E-Book | 374 pages | ISBN 9781483450032
Available at Amazon and Barnes & Noble
About the Author
Jason Peace was born in Austria in 1988, and lived there four years until his family moved to Ecuador, South America, for 12 years. They returned to Austria, where Peace finished high school and then studied physics at the Vienna University. Peace spent time in the military where he worked in the armament and defense technology agency. Today, he resides on a rural farm in south Austria, spending his days farming and story writing.
Lulu empowers people of all ages to explore and express their interests, passions and expertise through books, photography and art. Since introducing self-publishing in 2002, Lulu has empowered creators in more than 225 countries and territories to produce nearly two million publications. Lulu Jr. allows children to become published authors, encouraging creativity, strengthening literacy and building self-esteem. Picture.com offers professional photography of collegiate and professional sports, memorable and historic events, fine art and home décor. For more information, please visit http://www.lulu.com.