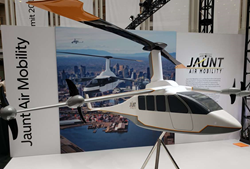 PRICE Systems provides our team with the industry's best independent predictive life cycle cost solution.
GLASSBORO, N.J. (PRWEB) June 13, 2019
Jaunt Air Mobility announced that PRICE Systems is their designated independent predictive cost modeling partner. PRICE Systems will assist Jaunt in analyzing and assessing the life cycle costs to bring the Jaunt's Reduced rotor Operating Speed Aircraft (ROSA™) into operation. Jaunt is poised to produce a prototype of an all-electric Vertical Takeoff and Landing (eVTOL) air vehicle, the next generation of the urban taxi.. The ROSA is combining the best of a helicopter and fixed-wing aircraft. Jaunt Air Mobility was just named partner in the Uber Elevate Network. Uber has a goal of making aerial ridesharing commercially. Jaunt Air Mobility's goal is for its prototype to be flying in 2023 and available to riders in 2025.
"PRICE Systems provides our team with the industry's best independent predictive life cycle cost solution. They have a wealth of experience in both helicopter and aviation cost modeling which is required to address the unique features of our compound aircraft," says Kaydon Stanzione, Jaunt Air Mobility CEO.
"Being selected to by Jaunt Air Mobility validates the years of research we have invested in positioning our company to support the unique aircraft configurations associated with urban air mobility," says Tony DeMarco, CEO PRICE Systems. "Our advanced algorithms enable us to estimate the cost of development, production, operation, and support costs."
About Jaunt Air Mobility LLC
Jaunt Air Mobility LLC is a transformative aerospace company focused on developing advanced air vehicles that incorporate innovative technologies and management strategies, providing the highest levels of operational efficiencies, safety, and community acceptance. We design and build piloted and autonomous flying machines that improve how people and packages seamlessly move within urban environments. Jaunt Air Mobility is the pioneer and world-leader in Reduced Rotor Operating Speed Aircraft (ROSA™) design and development. ROSA™ is the metamorphosis of the best features available from helicopters and fixed-wing airplanes.
About PRICE Systems
PRICE Systems has been collecting and analyzing data from hardware, software, aerospace, defense, and commercial/industrial projects, since 1969, PRICE® developed refined cost models to help users develop defensible top-down estimates with speed, accuracy, transparency, and standardization. As the most experienced cost estimating company in the world, PRICE® provides agile and accurate estimating solutions. PRICE enables clients to become better estimators, improve bid success ratio, achieve tremendous savings in analyzing effective alternatives and improving cost management, and be confident in the costs, schedules, and risk estimates of their business cases. For more information, visit https://www.pricesystems.com/
For Additional Information
Nancy Richardson
Communications Strategist
Jaunt Air Mobility LLC
nmrichardson(at)jauntairmobility(dot)com
855.304.3334 x5268
http://www.JauntAirMobility.com