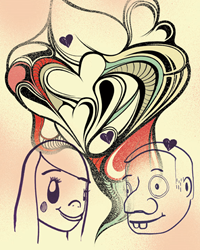 Corona, Calif (PRWEB) February 11, 2016
Java Monster presents an exclusive custom piece of artwork for Valentine's Day featuring art by Kasey Mahoney and Steve Tipton. Each piece features illustrated characters with a variety of personalities to evoke a range of happy and positive emotions.
Designed for those ardent lovers who can appreciate unique art that will bring smiles and life to wherever they live, each piece has been customized with warm, colorful washes of watercolor to give variety and texture.
For the collaboration, artists Kasey Mahoney and Steve Tipton worked together to create each piece. Tipton designed the main heart illustrations for the background, which were then printed on art paper and mounted to the panels. From there, Mahoney hand-drew all of the characters for each panel making each one individual and exclusive. Next, the panel goes back to Tipton to apply acrylic paint to each one, painting around the characters and painting all of the hearts to customize each piece. As a final touch, they apply a matte medium over the whole panel to seal everything in and make it show worthy.
Skateboarding at a young age exposed Mahoney to art and graffiti, which has greatly influenced his expressive art that is vibrant and imaginative. Mahoney's artwork also reflects his influences of family, dogs, underground sewers, music, graffiti and food. Never departing from his roots, he merges raw, unique characters into his work to create this exclusive piece for Java Monster. Mahoney is currently a graphic designer at Magnetic Creative.
A natural-born creator and designer with deep roots in Southern California's action sports culture, Tipton, has had a passion for art and creating since before he can remember. After receiving his Bachelor of Science degree in Graphic Design from the Art Institute of California, Tipton has worked on many unique projects for top-tier lifestyle, fashion and action sports brands. Currently a graphic designer for Monster Energy, Tipton is constantly inspired by new projects and friends.
Java Monster is proud to present this celebration of Valentine's Day creating the perfect juxtaposition of Happy and Positive inspired art. Incorporating their one-of-a-kind characters and unique art, Mahoney illustrates stories that reflect his views on life and Tipton is influenced by friends and his surroundings that inspire him to progress.
Java Monster is running a Facebook promotion where fans can have their own opportunity to receive this exclusive limited edition run signed and numbered Java Monster | Kasey Mahoney / Steve Tipton piece of art. 'Like' Java Monster's page for your chance to enter the contest and win a Kasey Mahoney | Steve Tipton token of 'Happy': Add Video Link
For more information on Java Monster, go to http://www.monsterenergy.com, or visit Java Monster on Facebook.
To see all of the extensions of Mahoney and Tipton and their many forms of art visit http://www.stevetipton.com, Instagram: @thepenthief, and http://www.kaseymahoney.com, Instagram @kaseymahoney, Twitter: kasey_mahoney and Facebook: https://www.facebook.com/kasey.mahoney.10.
###
About Java Monster
Based in Corona, California, Java Monster is coffee done the Monster way. Java Monster's premium coffee and cream offers the perfect mix of ingredients. Brewed with killer flavor and supercharged with the Monster Energy blend, Java Monster gives you half the caffeine of regular coffee and twice the buzz. Java Monster line-up includes Mean Bean, Loca Moca, Kona Blend, Vanilla Light, Irish Blend, and Salted Caramel; all created to satisfy whatever mood suits your lifestyle. See more about Monster Energy including all of its drinks at http://www.monsterenergy.com.