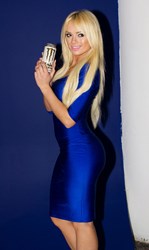 New York, NY (PRWEB) February 22, 2014
Java Monster's coffee bar had a big buzz going during Lingerie Fashion Week's® FW14 intimate apparel runway show today featuring the modern-boudoir luxury house Naked Princess showcasing its elegant loungewear and special occasion lingerie.
The event also featured 'Ones to Watch' special exhibition presented by the Lingerie Journal featuring new and emerging designers including Arsenic & Vieilles Dentelles, Blackbird Underpinnings, Iris London, Lola Haze and Nevaeh Intimates. Veteran FYI by Dani Read presented "The Muse of the Violets," a collection of aggressive luxury lingerie for the femme fatale with a sinister high fashion edge – and not for the faint of heart. There was also an exhibition of work titled, " Love Corsetry" by Sculpture Artist Heather Corey featuring a textural and colorful expression of the corset drawing inspiration from the feminine form and Parisian glamour. Set to share Corey's vision of feminine motion with the viewer, "Love Corsetry" presents detailed manipulation of (Corey's own) handmade paper fibers and paper clay in two-dimensional and three-dimensional forms.
Guests included Java Monster models, fashion VIPs, media, and influencers who took some time out in-between the shows to recharge and enjoy a delicious Monster drink. Java Monster models greeted all guests and gave out Java Monster product.
Lingerie Fashion Week® hosts exclusive intimate apparel presentations and runway shows featuring independent designers, emerging brands and creative tastemakers. Headquartered at Canoe Studios, which is housed within the prestigious Starrett-Lehigh Building at 601 West 26th Street, a creative landmark located in the heart of Manhattan's gallery district, Lingerie Fashion Week® positions itself as the first fashion week exclusively dedicated to intimate apparel brands.
Stay tuned for tomorrow's shows as Java Monster energizes attendees and Lingerie Fashion Week® continues to light up FW 2014 with a presentation from Layneau Collection set to live sounds by the Boudreaux String Quartet. Kix'ies Thigh High presents: "Cirque de Kix'ies", a presentation featuring special guest performers sure to leave guests in a twist, while a group Made in the USA Presentation will showcase contemporary lingerie & loungewear from Brooklyn based NaïS, LA based Clare Bare, and Philadelphia based Sophi Reaptress. For the finale runway show Affinitas & Parfait will return for a third season to showcase both Affinitas and cult favorite full bust line Parfait, including a meet-and-greet with Paris based Lead Designer Luly Chen.
See attached images and below download link to access images. Please feel free to blog, post and share:
LINK:
http://we.tl/3v0ZwpDVeA
Check out Java Monster's Facebook page for Lingerie Fashion Week® images and behind-the-scenes updates at http://www.facebook.com/JavaMonster.
Complete information on the designers, program schedule and sponsors can be found at the official website at http://www.lingeriefashionweek.com.
###
About Java Monster:
Based in Corona, California, Java Monster is coffee done the Monster way. Java Monster's premium coffee and cream offers the perfect mix of ingredients. Brewed with killer flavor and supercharged with the Monster Energy blend, Java Monster gives you half the caffeine of regular coffee and twice the buzz. Java Monster Personalities include Mean Bean, Loca Moca, Kona Blend, Vanilla Light, Irish Blend and Toffee; all created to satisfy whatever mood suits your lifestyle. See more about Monster Beverage Corporation including all of its drinks at http://www.monsterenergy.com.
About Lingerie Fashion Week®
The first Fashion Week worldwide exclusively created for intimate apparel brands, Lingerie Fashion Week® presents a progressive events marketing platform merging the lingerie, fashion and creative communities. Representing a $14 billion and rapidly growing market segment (in the U.S. alone), the multi-day event presents an exciting industry hub designed to shed a powerful spotlight on both intimates designers and the industry as a whole. Each biannual season features a mix of emerging and established intimate apparel brands from around the world, comprised of lingerie, loungewear, sleepwear, shapewear, hosiery/legwear, lingerie solutions and lingerie accessories. The event debuted in February 2013 to a result of over 900+ million total media impressions to date, attended by domestic and international press, retailers, fashion and intimates industry influencers, stylists, creative tastemakers, and VIPs; reaching audiences from North & South America to Europe and Asia. For more, please visit: http://www.lingeriefashionweek.com.