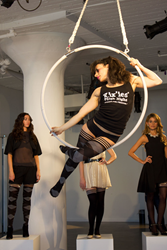 New York, NY (PRWEB) February 26, 2014
For the third day on February 22, Java Monster's coffee bar recharged the guests that attended Lingerie Fashion Week's® runway shows including celebrities, musicians, models, designers, stylists, and influencers.
The day kicked off with a presentation from the Layneau Collection. The collection was inspired by boudoir-wear with a vintage flair, but still very fitting for today's girl. The presentation was accompanied by sounds from The Boudreaux String Quartet.
Other highlights included a Kix'ies Thigh High presentation, which made us rethink about ever wearing stockings again after you see these thigh highs! Sexy and functional. It was also accompanied by a special performance by "Cirque De Kix'ies".
Made in the USA presentation featured Clare Bare, Naïs, and Sophi Reaptress.
The show ended with a runway show from Affinitas and Parfait that caters to both the sexy and the sweet girl. The sister line of Affinitas is Parfait which features undergarments that fit women of all sizes up to a size K.
Lingerie Fashion Week® hosted a VIP closing party to celebrate the week's inspirational lingerie intimate fashion apparel to benefit non-profit partner Safe Horizon featuring designers Affinitas & Parfait, Blackbird Underpinnings, Bradelis New York, Clare Bare, FYI by Dani Read, Kix'ies Thigh Highs, Layneau Collection, Lola Haze, Naïs, and Nevaeh Intimates and a great half time show by Art of Stepping.
Ashley De Luca from Where it There, Melanie Schnitzlein from Dat Sketchy Blonde, and Kimmie Smith of The Kitten Lounge attended the event.
Check out Java Monster's Facebook page for Lingerie Fashion Week images and updates at http://www.facebook.com/JavaMonster. Complete information on the designers, program schedule and sponsors can be found at the official website, http://www.Lingeriefashionweek.com.
###
About Java Monster:
Based in Corona, California, Java Monster is coffee done the Monster way. Java Monster's premium coffee and cream offers the perfect mix of ingredients. Brewed with killer flavor and supercharged with the Monster Energy blend, Java Monster gives you half the caffeine of regular coffee and twice the buzz. Java Monster Personalities include Mean Bean, Loca Moca, Kona Blend, Vanilla Light, Irish Blend and Toffee; all created to satisfy whatever mood suits your lifestyle. See more about Monster Beverage Corporation including all of its drinks at http://www.monsterenergy.com.
About Lingerie Fashion Week®
The first Fashion Week worldwide exclusively created for intimate apparel brands, Lingerie Fashion Week® presents a progressive events marketing platform merging the lingerie, fashion and creative communities. Representing a $14 billion and rapidly growing market segment (in the U.S. alone), the multi-day event presents an exciting industry hub designed to shed a powerful spotlight on both intimates designers and the industry as a whole. Each biannual season features a mix of emerging and established intimate apparel brands from around the world, comprised of lingerie, loungewear, sleepwear, shapewear, hosiery/legwear, lingerie solutions and lingerie accessories. The event debuted in February 2013 to a result of over 900+ million total media impressions to date, attended by domestic and international press, retailers, fashion and intimates industry influencers, stylists, creative tastemakers, and VIPs; reaching audiences from North & South America to Europe and Asia. For more, please visit: http://www.lingeriefashionweek.com.